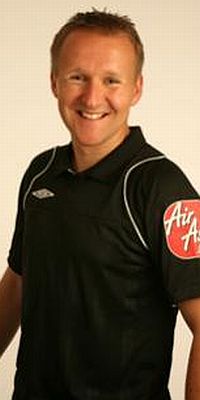 Langford is now into his sixth season as a Football League referee. His first game was a League Two fixture between Rochdale and Barnet at Spotland in August 2008 but he had to wait until his second season before being allocated a Championship fixture, that being QPR v Peterborough in September 2009.
He's still more likely to be seen on one of the two lower divisions but tonight will see him referee a sixth Championship game of the season in what will be his 22nd game. In the previous 21 there have been 47 yellow cards and just two red cards, both of which came in Championship games.
He was the referee in charge of the Bournemouth v Blackpool game on the day things really started to go wrong for Paul Ince who eventually landed himself a five match stadium ban. Langford had sent off Blackpool's Jack Robinson early in the second half but they still held on to win 2-1. More recently he sent off Joel Lynch of Huddersfield in a 1-0 home defeat against Reading.
Of his yellow cards, 18 have gone to home team players with 29 to away team players.
His last Burnley game came at Derby last season, a 2-1 win that proved to be our last win under the management of Eddie Howe. I think it is fair to say Langford had a decent enough game that day but the same could not be said for his first two games.
He refereed Howe's last Burnley win and he also refereed Howe's first Burnley defeat, a 1-0 reverse at Doncaster. That night, and also in the Barnsley game, he was simply appalling, getting a whole catalogue of decisions wrong.
However, the Derby performance was better and did lift him to 64th in RATE THE REF with a rating of 41.69 out of 100.
Langford's last game was the 0-0 draw between Bury and Barnet at Gigg Lane ten days ago. Bury's Frederic Veseli was the only player carded in that game.
The assistant referees are Richard Bartlett (Cheshire) and Rob Whitton (Essex). The fourth official is Ken Haycock (West Yorkshire).
Previous Burnley Games
Season

Opponents

V

Res

Y

R

Burnley Players Carded

2010/11

DONCASTER

a

0-1

2

0

n

Fox

2011/12

BARNSLEY

h

2-0

2

0

n

McCann, Duff

2012/13

DERBY

a

2-1

2

0

n

Mee, McCann