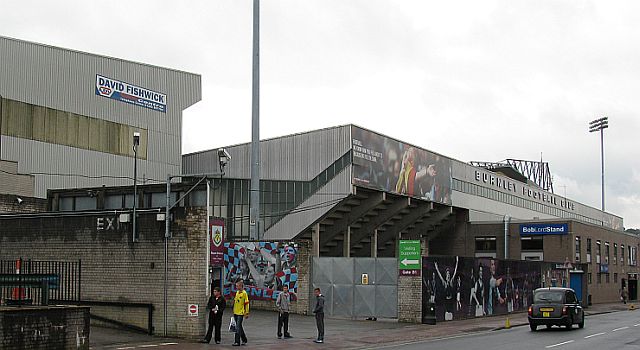 Even the Doncaster board called the idea of bringing in players on short term deals 'The Experiment'. It hasn't worked; their time is up and it might be some time before we visit the Keepmoat again; a pity really given that we've just managed to get a first win there.
Portsmouth should have gone with them too on Saturday and would have done but for some astonishing refereeing by Mick Russell. Pompey were 2-0 down at Doncaster before the sparse gathering had got their seats warmed but came back courtesy of some generous decisions.
There might be arguments for two of Portsmouth's goals being allowed to stand but the first penalty was a joke. Even if it was a foul then it was some distance outside the box. The third was a blatant foul by Dave Kitson, and did he put it in with his hand in any case?
Still, you don't have to even put the ball in the net now to score a goal as we saw at Wembley yesterday so an odd bad decision at Doncaster is hardly going to start any alarm bells ringing.
Despite the win it will be a miracle should Portsmouth survive whilst above them Coventry are still favourites to go down. It could have been all but over for them too when Bristol City led 2-0 at Birmingham whilst Coventry trailed 1-0 at Burnley. That would have seen a seven point gap opened up but with both drawing it leaves the Sky Blues in with a chance.
Up at the top there is only one team to comment on and that's Reading. They've won a sensational 43 points from their last 16 games and that's a massive 11 points more than any other team has won during that period.
They were mere play off hopefuls, and only hopefuls, ahead of this run but they are now promotion favourites and three points clear at the top of the league having won 3-1 at Southampton on Friday night.
Their leading goalscorer, even before Friday, was Adam Le Fondre and he scored twice in this win which surely must signal a return to the Premier League. They need one win and one draw to be certain of promotion.
A win for either team gave West Ham a chance of catching the other and they could do no more than they did on Saturday with a massive 6-0 win against Brighton. I wonder just how long Gus Poyet hung around this time. West Ham are just three points behind Southampton now.
They are in the play offs with Birmingham, Blackpool and Cardiff and looking at things now it does look as though Middlesbrough are the only club that could possibly get in there. Brighton are next and look to have blown it with only two points from their last five games.
More could be decided tomorrow with the last set of midweek fixtures which will leave us with just two games to go.
The results, stats, leading goalscorers, each club's red and yellow card counts, the highest and lowest attendances are all below along with tomorrow's fixture list.
The Results
Friday 13th April

Southampton 1 Reading 3

Saturday 14th April

Barnsley 0 Cardiff City 1

Leeds United 4 Peterborough United 1

Birmingham City 2 Bristol City 2

Millwall 2 Leicester City 1

Burnley 1 Coventry City 1

Nottingham Forest 0 Blackpool 0

Crystal Palace 1 Ipswich Town 1

Watford 1 Hull City 1

Derby County 0 Middlesbrough 1

West Ham United 6 Brighton & Hove Albion 0

Doncaster Rovers 3 Portsmouth 4
The Stats

Biggest Win

West Ham United 6-0 v Brighton & Hove Albion (home)

Total Goals Scored

37 (21 home - 16 away)

Player Scoring Most Goals

3 - Ricardo Vaz Te (West Ham United)

Highest Attendance

32,339 - West Ham United v Brighton & Hove Albion

Lowest Attendance

8,196 - Doncaster Rovers v Portsmouth

Total Yellow Cards

26

Total Red Cards

2

Most Cards in a Game

Crystal Palace v Ipswich Town (5Y) Ref: Fred Graham
Leading Goalscorers (League Only)

27

Rickie Lambert (Southampton) - includes 9 penalties

20

Ricardo Vaz Te (West Ham United) - includes 1 penalty - (10 with Barnsley)

18

Ross McCormack (Leeds United)

16

Charlie Austin (Burnley) - includes 1 penalty
Marlon King (Birmingham City) - includes 2 penalties

15

Darius Henderson (Millwall) - includes 2 penalties
David Nugent (Leicester City)
Kevin Phillips (Blackpool)
Jay Rodriguez (Burnley) - includes 3 penalties
Billy Sharp (Southampton) - includes 1 penalty (10 with Doncaster Rovers)

14

Michael Chopra (Ipswich Town)

13

Marvin Emnes (Middlesbrough)
Matty Fryatt (Hull City) - includes 1 penalty
Robert Snodgrass (Leeds United) - includes 2 penalties

12

Carlton Cole (West Ham United)
Kevin Nolan (West Ham United)
Chris Wood (Bristol City) - includes 1 penalty - (9 with Birmingham City)

11

Chris Burke (Birmingham City)
Craig Davies (Barnsley) - includes 1 penalty
Lukas Jutkiewicz (Middlesbrough) - includes 1 penalty - (9 with Coventry City)
Adam Le Fondre (Reading)
Paul Taylor (Peterborough United)
Pete Whittingham (Cardiff City) - includes 3 penalties
Nikola Zigic (Birmingham City)
Hat Tricks
Date

Player & Game

20/08/11

3: Lee Tomlin - PETERBOROUGH UNITED v Ipswich Town

10/09/11

3: Rickie Lambert - SOUTHAMPTON v Nottingham Forest

11/09/11

3: Chris Wood - BIRMINGHAM CITY v Millwall

12/10/11

3: Darius Henderson - Leicester City v MILLWALL

02/11/11

3: Jonjo Shelvey - Leeds United v BLACKPOOL

19/11/11

3: Rickie Lambert - SOUTHAMPTON v Brighton & Hove Albion

26/12/11

3: Matthew Phillips - Barnsley v BLACKPOOL

31/12/11

3: Ricardo Vaz Te - BARNSLEY v Leeds United

21/01/12

3: Darius Henderson - Barnsley v MILLWALL

31/01/12

4: Nikola Zigic - Leeds United v BIRMINGHAM CITY

26/02/12

3: Rickie Lambert - Watford v SOUTHAMPTON

17/03/12

3: Rickie Lambert - Millwall v SOUTHAMPTON

20/03/12

4: Garath McCleary - Leeds United v NOTTINGHAM FOREST

31/03/12

3: Radi Majewski - Crystal Palace v NOTTINGHAM FOREST

31/03/12

3: Charlie Austin - Portsmouth v BURNLEY

14/04/12

3: Ricardo Vaz Te - WEST HAM UNITED v Brighton & Hove Albion
Disciplinary Record (League and Cup)

Club

Y

R

Y

R

Club

Y

R

Y

R

League

Total

League

Total

Barnsley

57

2

60

2

Ipswich Town

55

5

56

5

Birmingham City

59

3

64

3

Leeds United

70

8

76

8

Blackpool

51

2

54

3

Leicester City

60

9

68

9

Brighton and Hove Albion

88

8

102

8

Middlesbrough

72

7

75

7

Bristol City

76

7

78

7

Millwall

72

2

79

2

Burnley

67

2

75

2

Nottingham Forest

57

5

62

5

Cardiff City

55

0

71

0

Peterborough United

51

2

54

2

Coventry City

54

2

56

2

Portsmouth

71

4

78

4

Crystal Palace

55

2

59

3

Reading

56

0

59

0

Derby County

56

1

56

1

Southampton

51

4

54

4

Doncaster Rovers

69

3

71

3

Watford

63

3

65

3

Hull City

67

1

72

1

West Ham United

63

6

65

7
Highest and Lowest Attendances

Highest

Lowest

Att

Fixture

Att

Fixture

34,936

West Ham United v Coventry City (02/01)

6,351

Peterborough United v Cardiff City (18/10)

34,900

West Ham United v Crystal Palace (25/02)

6,392

Peterborough United v Millwall (06/03)

34,749

West Ham United v Barnsley (17/12)

6,717

Peterborough United v Reading (20/03)

34,650

West Ham United v Doncaster Rovers (10/03)

7,004

Peterborough United v Bristol City (18/02)

33,465

West Ham United v Portsmouth (10/09)

7,540

Peterborough United v Blackpool (10/03)

33,366

Leeds United v West Ham United (17/03)

7,555

Peterborough United v Portsmouth (28/01)

33,350

West Ham United v Reading (31/03)

7,572

Doncaster Rovers v Millwall (20/03)

33,010

Derby County v Southampton (15/10)

7,650

Doncaster Rovers v Watford (26/11)

33,010

Derby County v Leeds United (26/12)

7,778

Doncaster Rovers v Bristol City (27/08)

33,010

Derby County v Nottingham Forest (17/03)

7,901

Peterborough United v Burnley (17/09)
The Next Fixtures
Tuesday 17th April

Blackpool v Leeds United (20:00)

Ipswich Town v Birmingham City

Brighton & Hove Albion v Watford

Leicester City v Burnley

Bristol City v West Ham United

Middlesbrough v Doncaster Rovers

Cardiff City v Derby County

Peterborough United v Southampton

Coventry City v Millwall

Portsmouth v Crystal Palace

Hull City v Barnsley

Reading v Nottingham Forest (20:00)