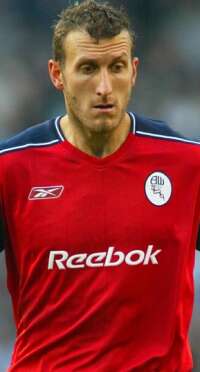 Glen during his recent loan spell at Bolton
He recently spent a loan period at Bolton but was called back by Stan before the last month was complete after yet another player shortage at Turf Moor. There were suggestions that a deal had been done with Bolton, and these have been hightened with the news that we still want Delroy Facey, but news from the Reebok is that Sam Allardyce is looking elsewhere to strengthen his squad.
Glen is out of contract in the summer and it is believed that he has already turned down a new long term deal from the Clarets albeit at the expected reduced terms so a move away looks inevitable.
Wigan were keen to sign him in the summer and it is thought that some discussions were held but in the end it came to nothing. Wigan's interest though now looks to have been rekindled and it is more than a possibility that they could well make a move to take him in the very near future. Talk in Wigan is that Little could well be Paul Jewell's next signing as they look to arrest the recent run of poor results.
In just over three weeks time we will be into 2004 and that means Glen is free to talk to other clubs, it could well be that he is gone from Turf Moor before we reach the New Year.