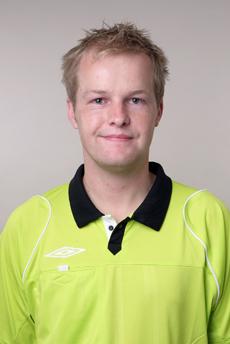 Ward has now been refereeing in the Football League since the beginning of the 2007/08 season but before that he was an assistant referee in the Premier League and became known when he ruled out a Hernan Crespo goal for Chelsea for offside.
It came in a Premier League game between Chelsea and Liverpool, played at Stamford Bridge in February 2006. The Chelsea players, led by Crespo, were incensed when he ruled out a goal for offside right on half time.
Replays showed the Ward had got the decision correct and before the second half got underway he received a very public apology from Crespo.
Since going into the middle, he's certainly courted some controversy and he's a referee who has no concerns when it comes to waving his cards around. Just this season he's had Crawley's Richie Barker claiming he cost them the points on Boxing Day against Sheffield United and a few weeks earlier Michael Appleton the Portsmouth Blackpool Blackburn manager was highly critical of him when he refereed the Bristol City v Blackpool game.
His season so far has been 22 game and in those games there have been 79 yellow cards and a grand total of nine red cards including five in the last five games. Three times this season he's sent two players off in a game. Six of those games have been in the Championship but none of the red cards have come in those games.
Of the yellow cards, 33 have gone to home team players and 46 to away team players. In the three games where two players have been sent off it has been one from each side on all three occasions. Two of the other three players have been away team players.
His last game came last week in the FA Cup. It was Aldershot's 3-1 home win against Rotherham. Aldershot had Anthony Tonkin yellow carded and Rotherham's Kari Arnason suffered the same fate for diving. Arnason late received a second yellow card for a late challenge and Aldershot's hat trick hero Danny Hylton received his marching orders for an off the ball incident.
It might be his first Burnley game tomorrow but he has previously refereed Crystal Palace. That was their 3-2 win against Cardiff in October when they came from 2-0 down after just a quarter of an hour to win 3-2 with a Glenn Murray hat trick.
The assistant referees tomorrow are Robert Merchant (Staffordshire) and Shaun Hudson (Tyne & Wear). The fourth official is Football League referee Scott Duncan (Northumberland).