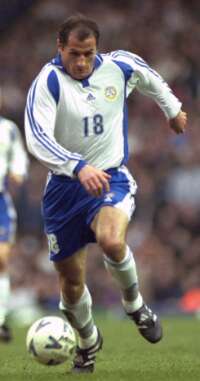 Shefki Kuqi in action for Finland
Over the last few weeks we have been linked with a number of players after both manager Stan Ternent and his assistant Sam Ellis both said they would like to strengthen the squad. I don't think at first that anyone would have had the names of a Finn and an Israeli at the top of the list but it now appears that is the case.
The Finn is Stockport striker Shefki Kuqi and after much speculation over recent weeks, and following his good performance on the Turf in mid December, Stockport have now confirmed that Burnley have made an offer for him that has been rejected.
There has been no official indication of any figure but it seems that we have offered in the region of £250,000 a figure way below the valuation the Unprofessionals have put on him. However they have let it be known that they want to sell and they may find that what they want is not what they are going to get.
Sheffield Wednesday have also been linked with Kuqi but that would be like jumping out of the frying pan into the fire for him should he join them. Wednesday seem to be a club that can't make up its mind whether to fight against relegation to the Second Division or go behind the backs of others trying to get the Phoenix League off the ground. The struggling South Yorkshire club now seem to be bottom of the pile in that area, behind the likes of Rotherham and Barnsley besides their City neighbours.
So Kuqi is the Finn and the Israeli is central defender Arik Benado who we told you about on Sunday. Burnley have confirmed their interest in Benado and were hoping to get him over to play in the reserves next week. Whether he will roll up for that game or not is still unclear but the one thing that is clear is that he is very high on Stan's shopping list. It is suggested that a fee in the region of £600,000 would get Benado.
The squad has increased by one today with the return to the Turf of Andy Payton. Blackpool have not taken up the option of extending Andy's loan and he is now back home and will be available for the game against Canvey Island on Saturday.
Blackpool boss Steve McMahon said of Andy, "It's been a shame for Andy really, he hasn't seen the best of us, he's come to a club that were playing well and all of a sudden it's dried up and he hasn't had many chances.

"We did consider extending the loan but what it does do is frees us up for another loan, with Marshy still here and Andy, that's my loans gone, I've already got the two under 23's in so, one must go to give me a chance to bring somebody else in, if I sign Andy up, it ties me down to nothing and I don't want to do that at the moment."
There is unlikely to be any rush to make signings this week, the seven day notice rule for the FA Cup is now well past but I would suspect we might certainly be in talks with Mr. Elwood in the next week or so.