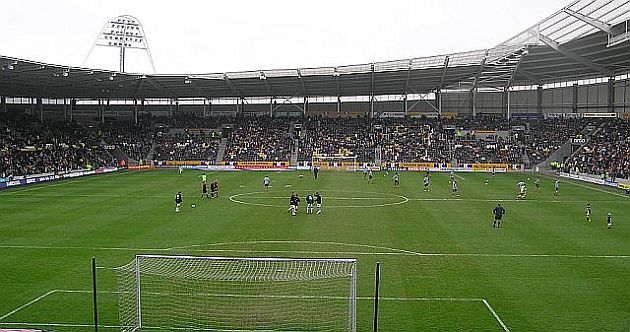 KC Stadium to host Premier League football again in 2013/14
It was only a day when the Birmingham v Blackburn and Charlton v Bristol City games, alongside ours against Ipswich, counted for nothing as clubs fought for second place, then the next six and finally to avoid those two extra relegation places.
Able to sit relaxed watching the Clarets there was news coming through from grounds that saw the picture change time and again, and even up at the top where Watford never made second place during the day there was some real drama.
The game at Vicarage Road was delayed for almost 20 minutes because of an injury to goalkeeper Jonathan Bond. That meant that Hull, after missing a penalty and then conceding one, both in stoppage time, had a long wait knowing that Watford, who were drawing 1-1, would go up instead of them if they scored again.
As it happened they conceded after a shocking mistake from substitute goalkeeper Jack Bonham. It means it's the play-offs for the Udinese franchise and they'll play Leicester after another dramatic finish changed things.
Bolton were sitting on sixth place with a 2-2 draw against Blackpool. That was good enough as long as Nottingham Forest and Leicester drew at the City Ground. They were until Anthony Knockaert scored a dramatic winner to steer Leicester and their inspiring manager Nigel Pearson into the top six with Bolton resigned to another year in the Championship.
Another year in the Championship was music to the ears of the supporters of Barnsley, Huddersfield, Millwall and Wednesday. I'm not sure whether all of them spent time in the bottom three at some time during the afternoon, but there is every chance they did.
There was to be one last dramatic twist here. It didn't feature Wolves. According to their manager Dean Saunders they created eight good chances and missed the lot at Brighton. He said similar last week when we beat Wolves so I think that ensures we can dismiss his claims.
Wolves never threatened the miracle they needed but the last relegation place was in doubt right until the end. Peterborough must have thought they'd escaped when they led with 83 minutes gone at Crystal Palace with, as it turned out, only a draw needed, but they conceded two late goals, the second coming from a shocker of a free kick decision.
One Ferguson might be a Premier League winner again but the other was on his way down as Huddersfield and Barnsley celebrated by allowing one goalkeeper to keep hold of the ball for the last two or three minutes of the game knowing both were safe.
It's been a strange season and how things have changed since the turn of the year. Since New Year's Day a league table would show Middlesbrough bottom with only 12 points; Bristol City and Millwall next with 19 points.
Brighton, with 41, have four points more than next best Watford and up towards the top are Charlton (4th), Barnsley (6th), Sheffield Wednesday (7th) and Peterborough (8th).
We are 13th but two of the teams in the play-offs, Crystal Palace and Leicester, are below us so that should surely leave Watford and Brighton as the favourites to challenge for the one remaining Premier League place.
The police state operation will come into force for the Palace v Brighton semi-final; a simply shocking state of play when football supporters are required to carry id with them to go and watch their team. It stinks almost of the Thatcher idea of the 1980s.
I don't know what's going to happen there. I know the FSF are getting involved and I hope the supporters of the two clubs fight this shocking nonsense vehemently.
So, 19 of next season's Championship clubs are confirmed. Three of the play-off contenders will be added to that with one more to come from each of the Premier League and League One.
That's it for another season, a season that has seen us bring in an average attendance of 12,928. Only Barnsley (10,207), Millwall (10,559) and Peterborough (8,215) have attracted less.
Those last results and all the stats are below along with the league's leading goalscorers, each club's disciplinary record and the highest and lowest attendances with three of the top ten coming on the last weekend.
The Results
Tuesday 30th April

Millwall 0 Crystal Palace 0

Saturday 4th May

Birmingham City 1 Blackburn Rovers 1

Derby County 1 Millwall 0

Bolton Wanderers 2 Blackpool 2

Huddersfield Town 2 Barnsley 2

Brighton & Hove Albion 2 Wolverhampton Wand 0

Hull City 2 Cardiff City 2

Burnley 2 Ipswich Town 0

Nottingham Forest 2 Leicester City 3

Charlton Athletic 4 Bristol City 1

Sheffield Wednesday 2 Middlesbrough 0

Crystal Palace 3 Peterborough United 2

Watford 1 Leeds United 2
The Stats

Biggest Win

Charlton Athletic 4-1 v Bristol City (home)

Total Goals Scored

39 (24 home - 15 away)

Player Scoring Most Goals
2

Yann Kermogant - Charlton Athletic v Bristol City
Kazenga LuaLua - Brighton & Hove Albion v Wolverhampton Wanderers

Highest Attendance

31,375 - Sheffield Wednesday v Middlesbrough

Lowest Attendance

12,745 - Millwall v Crystal Palace

Total Yellow Cards

43

Total Red Cards

2

Most Cards in a Game

Bolton Wanderers v Blackpool (7Y) Ref: Roger East
Leading Goalscorers (League Only)

30

Glenn Murray (Crystal Palace) - includes 8 penalties

29

Jordan Rhodes (Blackburn Rovers) - includes 4 penalties, 2 with Huddersfield Town

25

Charlie Austin (Burnley) - includes 4 penalties

20

Matej Vydra (Watford) - includes 2 penalties
Chris Wood (Leicester City) - includes 1 penalty, 11 with Millwall

19

Troy Deeney (Watford) - includes 2 penalties

18

Tom Ince (Blackpool) - includes 3 penalties

15

Luciano Becchio (Leeds United) - includes 4 penalties

14

Sylvan Ebanks-Blake (Wolverhampton Wanderers) - includes 3 penalties
David Nugent (Leicester City) - includes 1 penalty
James Vaughan (Huddersfield Town)

13

Steven Davies (Bristol City) - includes 2 penalties
Dwight Gayle (Peterborough United)
Marlon King (Birmingham City) - includes 3 penalties

12

Almen Abdi (Watford) - includes 2 penalties
Craig Davies (Bolton Wanderers) - includes 2 penalties, 8 with Barnsley
Chris Eagles (Bolton Wanderers)
Johnnie Jackson (Charlton Athletic) - includes 1 penalty
Yann Kermogant (Charlton Athletic) - includes 1 penalty
Scott McDonald (Middlesbrough)
Jamie Ward (Derby County) - includes 4 penalties
Hat Tricks
Date

Player & Game

01/09/12

3: Pete Whittingham - CARDIFF CITY v Wolverhampton Wanderers

15/09/12

3: Charlie Austin - BURNLEY v Peterborough United

22/09/12

3: Glenn Murray - CRYSTAL PALACE v Cardiff City

22/09/12

4: Craig Davies - Birmingham City v BARNSLEY

23/09/12

3: David Nugent - LEICESTER CITY v Hull City

29/09/12

3: Emile Sinclair - Hull City v PETERBOROUGH UNITED

02/10/12

3: Charlie Austin - BURNLEY v Sheffield Wednesday

23/10/12

3: Marlon King - Millwall v BIRMINGHAM CITY

06/11/12

3: Glenn Murray - CRYSTAL PALACE v Ipswich Town

17/11/12

3: Jordan Rhodes - Peterborough United v BLACKBURN ROVERS

12/01/13

3: Chris Wood - Bristol City v LEICESTER CITY

19/02/13

3: Radoslaw Majewski - NOTTINGHAM FOREST v Huddersfield Town

02/03/13

3: Dwight Gayle - Blackburn Rovers v PETERBOROUGH UNITED

02/03/13

3: Leonardo Ulloa - BRIGHTON & HOVE ALBION v Huddersfield Town

05/03/13

3: Kevin Phillips - CRYSTAL PALACE v Hull City

28/04/13

3: James Vaughan - Bristol City v HUDDERSFIELD TOWN
Disciplinary Record (League and Cup)

Club

Y

R

Y

R

Club

Y

R

Y

R

League

Total

League

Total

Barnsley

68

3

77

4

Huddersfield Town

92

5

101

5

Birmingham City

63

3

67

3

Hull City

59

1

62

2

Blackburn Rovers

76

1

90

1

Ipswich Town

54

2

57

2

Blackpool

63

3

65

3

Leeds United

71

5

81

5

Bolton Wanderers

85

4

88

4

Leicester City

52

2

56

2

Brighton & Hove Albion

66

4

71

4

Middlesbrough

58

2

68

2

Bristol City

50

0

53

0

Millwall

93

3

108

3

Burnley

89

4

97

5

Nottingham Forest

81

5

81

6

Cardiff City

76

3

79

3

Peterborough United

55

1

58

1

Charlton Athletic

61

2

62

3

Sheffield Wednesday

95

2

101

2

Crystal Palace

65

2

76

2

Watford

77

6

80

6

Derby County

61

3

62

3

Wolverhampton Wanderers

64

3

68

3
Highest and Lowest Attendances

Highest

Lowest

Att

Fixture

Att

Fixture

33,010

Derby County v Nottingham Forest (19/01)

5,435

Peterborough United v Bristol City (18/09)

31,375

Sheffield Wednesday v Middlesbrough (04/05)

5,633

Peterborough United v Blackpool (01/12)

30,003

Brighton & HA v Wolverhampton W (04/05)

5,997

Peterborough Utd v Blackburn Rovers (17/11)

29,697

Sheffield Wednesday v Barnsley (30/03)

6,050

Peterborough Utd v Charlton Athletic (05/03)

28,707

Nottingham Forest v Derby County (30/09)

6,188

Peterborough United v Millwall (21/08)

28,646

Nottingham Forest v Leicester City (04/05)

6,214

Peterborough United v Hull City (19/01)

28,595

Wolverhampton W v Ipswich Town (29/12)

6,348

Peterborough Utd v Huddersfield Town(23/10)

28,582

Sheffield Wednesday v Leeds United (19/10)

6,600

Peterborough Utd v Bolton Wand (23/12)

28,499

Brighton & HA v Crystal Palace (17/03)

6,612

Peterborough Utd v Middlesbrough (08/12)

28,499

Brighton & HA v Blackpool (20/04)

6,648

Peterborough Utd v Burnley (02/02)