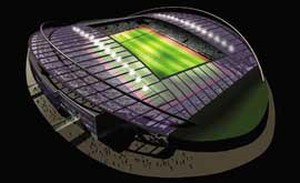 The planned new stadium at Falmer

The fans involved are those of Wrexham and Brighton. The Wrexham fans are fighting to save their ground whilst the Brighton fans, having already lost theirs some years ago are fighting for the right to have a new stadium.



Wrexham's chairman and owner Alex Hamilton is still pledging to bulldoze the Racecourse Ground but the attentions of the fans are turning to Woking in Surrey, the home of Andy Smith the chairman of property company United Plotholders Association (UPA).



They believe Smith has stood in the way of a genuine buy out of the club and with the permission and assistance of the Surrey police they will be marching through Woking to highlight their plight.



Organiser Marcus Viveash said, "We do not want to inconvenience any Woking residents with this march. We just want to draw attention to our club#s plight and send out a message to UPA or any other property developer, do not come to Wrexham unless you have the club's best interests at heart."



The March will take place a week on Saturday, 17th September, prior to Wrexham's League Two fixture at Leyton Orient.



Meanwhile the Brighton fans are set to march again as they continue their fight to get their new stadium at Falmer. The Labour Party Conference will be held in Brighton this year and they have chosen the opening day of that conference to march to the venue, the Brighton Centre. That is Monday 26th September at 5:00 p.m.



A second public enquiry has been held and the report is now with Deputy Prime Minister John Prescott, he has promised a decision by 31st October. Brighton Chief Exec Martin Perry said, "This is our last chance to get our message across and we want as many fans as possible to come out and march to the conference."



I think any of us who have been to the Withdean will support any moves by Brighton to get their new stadium, and if any of you are in Brighton on that day, or indeed Woking on the 17th then you will be more than welcome to join in the marches.



Clubs who lose their grounds are without doubt at great risk, somehow Brighton have survived and Wrexham are hoping they don't lose their ground in the same way.