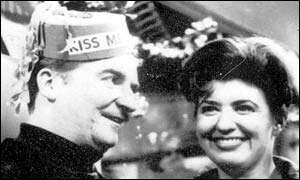 In Coronation Street with Elsie Tanner
Last week one of the most famous of Burnley fans during the 1960s, 70s and early 80s died at the age of 71. He was Peter Adamson although of course he was far better known as Len Fairclough, husband of Rita and resident of Coronation Street, Weatherfield.
He was not just a famous Claret by name, he was a keen supporter, and hardly was a game played at Turf Moor that he and his wife Jean didn't attend. In fact when the Club's Centenary Brochure was produced in 1982 there was an article from him.
His days as a Claret came to an abrupt end in 1983 after a court appearance, in Burnley, for indecent assault of two young girls. He was acquitted but to my knowledge besides losing his part on Coronation Street, where his character was killed off after he left, he was never seen at the Turf again.
His wife Jean died shortly after the court case and although he continued to work in theatre his days as a well known celebrity were over. He sadly passed away last Thursday of stomach cancer and leaves two sons, Greg (actor Richard Harding) and Michael.