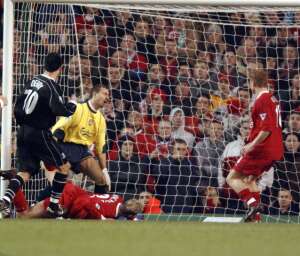 Liverpool's Stephane Henchoz puts through his own goal against Palace
In fact there are more First Division clubs than Premiership clubs left in the FA Cup with eight going into the 5
th
round alongside seven from the Premiership and Rochdale from the 3
rd
Division.
All of the replays were of interest to us this week with three of the four being a Premiership v Division One clash whilst the remaining all Premiership replay ensured that the Clarets now remain as the only Lancashire club left in the competition.
Just one of the Nationwide clubs won through and that was Palace who were 2-0 winners at Anfield against Liverpool and that despite having Dougie Freedman sent off. Palace were in fact fortunate to win having at times been outplayed by Liverpool but it was another result good enough to send big nose into another rage as Houllier's eyes popped out again.
There was no such luck for Gillingham at Leeds or Millwall at home to Southampton. Both played well but could not complain at the results that saw them go out.
And that takes us to the all Premiership clash at the Stadium of Light. This game was almost unnecessary and only a late, late equaliser for our neighbours Blackburn in the first match forced the replay.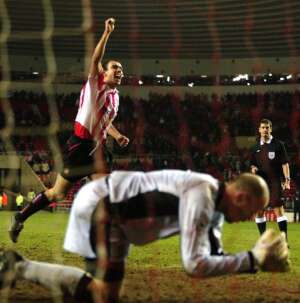 It's over - Gavin McCann scores the winner to put Sunderland through in last night's one sided penalty shoot out
They did it again last night when the King of the Lap Dancers brought it all level and the teams could not be separated in extra time.
But that was when the fun started with the penalty shoot out. When Kevin Phillips stuck the first penalty away he could hardly have known that it was more than their opponents were going to score in total. He could never have believed that they would miss, miss and miss again.
Even Jodie Craddock's shocking effort for the Mackems proved less than vital and Sunderland went through with the dejected visitors walking off beaten without even bothering to take their last two penalties.
As has been said today, in the last week they have lost twice to teams playing in Claret and Blue and then gone out of the cup to a team who have just appointed an ex-Claret as coach.
And that does leave us as the only Lancashire club in the FA Cup – sometimes there really is some justice in this world.
The revised draw is:
Manchester United v Arsenal
Southampton v Norwich City
Crystal Palace v Leeds United
Wolverhampton Wanderers v Rochdale
Fulham v Burnley
Stoke City v Chelsea
Sunderland v Watford
Sheffield United v Walsall