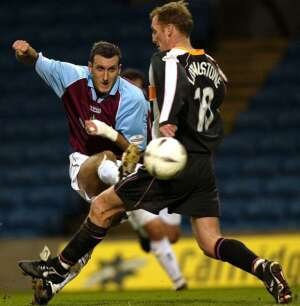 Glen scores in our 3rd round win against Grimsby last season
This weekend sees the 2
nd
round played as twenty clubs attempt to join the Premiership and Division One clubs in the 3
rd
round which will be played on the first weekend of 2004.
The experiment of returning the draw to its old traditional slot of Monday lunchtime has now apparently been ended and we are back to a Sunday draw with both BBC and SKY covering it at 3:00 p.m.
Some of will want as easy a home tie as possible, others will want to be drawn against our closest rivals (you will need to look out for ball number 4) but surely after four successive away draws last season followed by three Carling Cup away draws this season it is surely our turn to get a home draw.
Just tune in at 3 o'clock on Sunday when Burnley will be ball number
7
in the draw.