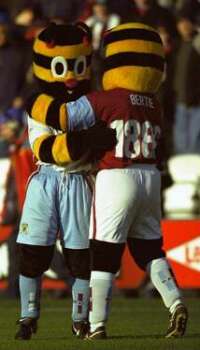 Bertie and Bumble at Deepdale before our 3-2 win
This time Bertie and Bumble have offered him a challenge that they would like to make a regular event at Burnley v Preston games and are allowing Preston's feathered waddler to bring three PNE fans with him in an attempt to try and beat them.
If the challenge was for smugness then I'm sure Deepdale Duck would win hands down but I think he will be waddling off with a sulk again as he is outdone by our extremely over active bees.
Bertie wrote to Deepdale recently and offered him the challenge, we can now reveal the contents of the letter that dropped through the duck's letter box. It read,

Dear Duck

Now then Duck, do you still think that you're the best??!!! Well I don't think so.

Here are the facts! - Remember March 4th 2000 at Turf Moor?? You may have erased it from your memory, but I remember it well.

There were three events, a Penalty Shoot Out, a race around the pitch, & let's not forget the Obstacle course, in which I gave you a 5 second start and still managed to win!!!

Another thing that you have probably tried to erase from your memory is the Mascot Grand National at Huntingdon, where you finished 76th!!! I might add that myself and side-kick Bumble finished in the top 18.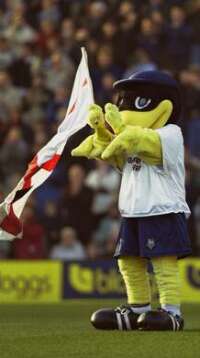 The obnoxious Deepdale Duck

Anyway, lets forget the past, and move on. I have a new challenge - a new obstacle course that my mates from the Queens Lancashire Regiment will design.

Here are the rules:

The Obstacle Course

You and three PNE fans in an Obstacle course relay race against myself, Bumble & two Burnley fans.

The winner will take away a specially commissioned trophy that will be contested every time our two great clubs meet.

So come on Deepdale, are you up for it? I'll see you and your fans at the Turf on Sunday, March 17th.

Yours stingley

BERTIE BEE
The already worried duck who we hear will be taking up the challenge has already started a strict training programme and has been spotted most of the last week training for the event in Moor Park Preston just across from the North End ground.
He has been skiving too much though and has often been found hanging around in the park's duck pond. He'll never be ready for this challenge.
I don't think our boys will have any trouble in sorting out this arrogant duck once and for all so don't forget your Bertie Bee masks and don't forget to give the top mascots in football your support.