It is, instead, about some ex-Clarets who are currently without club and trying to win deals in the same way as Scott Arfield did a year ago at Burnley, by training with and playing in pre-season games for potential new clubs.
One such player is Jay McEveley who, back in the 2003/04 season, joined the Clarets on loan from our local rivals down the road at Blackburn. A small number of players since have played for both clubs but McEveley was the last to make any sort of move directly from one to the other of the two East Lancs rivals.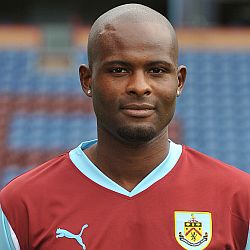 Leon Cort is back at Southend
Alas, he never got a league start for the Clarets. He was brought in to replace the woefully out of touch Mo Camara and made four substitute appearances before replacing Camara for the FA Cup tie at Mansfield. He suffered a serious knee injury in that game and immediately returned to Ewood.
He's since played for a number of clubs, most recently Swindon where he was released at the end of last season. For the last two weeks he's been training with the franchise in Milton Keynes and has impressed in three pre-season friendlies to date.
Manager Karl Robinson said: "He's someone who can play left-back and left centre-half and we are looking to add strength in that area. He knows that Lewie (Dean Lewington) has been an ever present at left-back for this club for many years. We've had a good chat and he knows where we're at and I know where he's at."
However, Robinson warned: "We can't do anything just yet due to where we are with the financial fair play ruling, so it's a case of seeing how things go. He's a great lad and a very talented player. It's not out of the question."
On the subject of defenders, and looking back at our last season in the Premier League, we signed two for sizable transfer fees. The first of them was Andre Bikey who earlier this week signed for Charlton; the other was Leon Cort who recently was released by Charlton.
Cort, signed for Charlton, initially on loan, from Burnley and helped them to win promotion to the Championship in 2012. Last season wasn't a good one for the now 34-year-old. Injuries reduced him to five appearances, of which three were in the league, and he was deemed surplus to requirements by the Belgians at the end of last season.
He's turned up at his first club Southend where he made 137 league appearances before moving to Hull ten years ago, and today he made his second debut for them, coming on as a half time substitute in a 2-1 defeat at Braintree.
Manager Phil Brown was pleased with him too. He said: "We're making up numbers with trialists at the moment and some of them impressed today. Leon was short of a bit of match fitness but he'll be back in."
Talking about teams being made up with trialists we have to take a look at Blackpool's game at Penrith. Five of their starting eleven (yes they found eleven) were trialists with a further two trialists on the bench.
They won 4-0 with their official site reporting that they opened the scoring when Bobby Grant's free kick eventually found a trialist, who tapped in from a matter of yards.
The same trialist scored the second and if our sources are correct it was Nathan Delfouneso who we know has been training with them this week, along with one or two holidaymakers spotted on the Golden Mile, just to make up numbers.
Last week there were reports of Brian Stock training with Oldham but there were no suggestions that he played in their friendly against Newcastle this week and it's not known if he's still there.
That was an interesting friendly. It was part of a sponsorship deal between the two clubs that has seen Boundary Park renamed as the Sportsdirect.com Park.
We'll keep you up to date as and when there is any news of any former Clarets winning deals at new clubs.