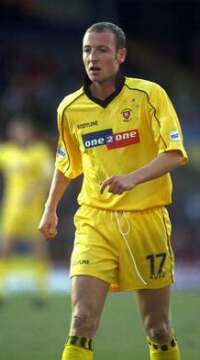 John Mullin - on the mark for Rotherham this week
Last Tuesday John Mullin scored an important goal for Rotherham in their home win against Gillingham. His goal just after half time gave the Millers a 2-0 lead but despite going into a three goal lead they were hanging on at the end for a 3-2 win. It was John's second league goal this season.
Into the Second Division and Blackpool won 3-0 last Tuesday at bottom club Cambridge with former loan player John O'Kane getting the last goal. Meanwhile at Boundary Park the goals from David Eyres just keep coming. On Tuesday Eyresy equalised from the penalty spot right on half time in the home game against Brentford. They went on to win the game 3-2.
Yesterday the Latics had an easier win at home but 4-1 against Colchester United and he was again on the mark getting the third of those four goals. The first of the two goals this week, on Tuesday, coincided with Eyresy's 38th birthday and he has now scored eleven goals since the last week in November.
Not only that, he has now shelved plans to retire at the end of the season and has signed a new contract at Oldham. He was 25 when he made his Football League debut but has now played a staggering 511 Football League games.
Joining him on the 2nd Division score sheet yesterday was Matty Heywood who scored Swindon's second in a 3-0 home win against Port Vale. This was his third league and cup goal of the season.
A prolific scorer throughout his career Paul Barnes has struggled with injury this season. He did open the scoring though in Doncaster's 3-2 win at Nuneaton yesterday. He scored from the penalty spot after 10 minutes.
A mention for two former Burnley players who have starred for Premiership clubs this week. This afternoon Andy Oakes turned in a superb performance in goal for Derby in their home draw with Manchester United. Let's hope Oakes and his club can remain in the Premiership next season.
Meanwhile Lee Dixon, just short of his 38th birthday, has fought back from serious injury to win back his place in the Arsenal side. This week he has turned in two excellent performances against Bayer Leverkusen in the Champions League and Newcastle in a Premiership game.