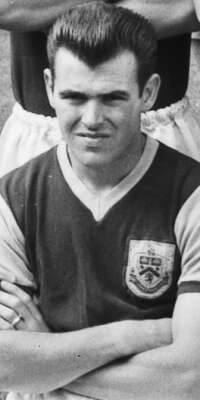 John Connelly - to receive a World Cup WInners medal
When England won the World Cup at Wembley in 1966 the rules were that only those taking part in the game received medals. There were no substitutes then which meant eleven of the twenty-two man squad (those who didn't play in the final) received nothing.
That was the case up to and including the 1974 finals in West Germany but FIFA brought in a rule change for the competition in Argentina in 1978 which made provision for every member of the squad to be recognised.
Yesterday in South Africa, at the draw for the 2010 World Cup qualifiers, FIFA president Sepp Blatter announced that non-playing members of World Cup-winning squads between 1930 and 1974 would now be given medals.
That includes former Burnley outside right John Connelly who had by then moved on and was playing his football for Manchester United. Connelly is one of the eleven Englishmen who will receive one.
Ex-Blackpool right back Jimmy Armfield, who has just recovered from cancer, said: "This may seem odd but the twenty-two World Cup winners left London the day after the final and have never since all been together as a group. Sadly, we now never will be, of course, but I'm sure those who are alive would all make the effort.
"I know Alf Ramsey always felt we should all receive medals and Bobby Moore felt the same way. In 1966, if you didn't play, you didn't get a medal, although we all received the same £1,000 bonus!"
We all know the team that played in the final, and that Jimmy Greaves was the one player expected to play who was left out. But not many of us could come close to naming those eleven members of the squad who watched us win the World Cup from the stands.
They were: Jimmy Armfield (Blackpool), Peter Bonetti (Chelsea), Gerry Byrne (Liverpool), Ian Callaghan (Liverpool), John Connelly (Manchester United), George Eastham (Arsenal), Ron Flowers (Wolves), Jimmy Greaves (Tottenham), Norman Hunter (Leeds), Terry Paine (Southampton), Ron Springett (Sheffield Wednesday).