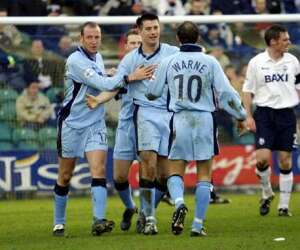 Leeis congratulated after scoring at Deepdale
Alan Lee grabbed an equaliser for Rotherham at Deepdale in their 2-1 defeat but it was something of a Jeckell and Hyde performance from the Irish striker. With the score at 0-0 he missed a simple chance to give Rotherham a 1-0 lead.
Down in Division Three Mark Yates continued his current run of goal scoring form in Cheltenham's 4-0 home victory against York. He scored the third of the four with just ten minutes to go.This result sees them take sixth place in the league and they are looking a very good bet to take one of the play off places.
During the week former loan striker Paul Shaw equalised for Gillingham in their home game against struggling Grimsby after they had surprisingly found themselves 1-0 down. The goal came right on half time and Gillingham went on to win the game 2-1 in the second half.