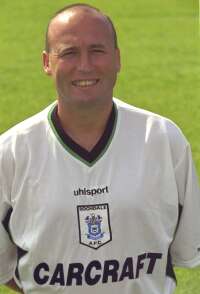 David Hamilton - no longer required at Rochdale
Hamilton has been at Spotland for six years and has twice taken charge of the team in a caretaker capacity. The first occasion was following the sacking of Graham Barrow and then again more recently when Steve Parkin moved to Barnsley.
On the second occasion he was assisted by Jamie Hoyland and he put himself forward for the job on a permanent basis but was disappointed when they appointed John Hollins. He continued though as Hollins' assistant.
Now Rochdale are searching for another manager and have short listed a number of candidates all of whom have said they would want to bring in their own number two. That means there is no future for Hamilton and they have terminated his contract today.
It does look as though the appointment of a new manager is imminent and it is looking ever more likely that it will be an ex-Claret although the Rochdale fans will be relieved to know it is not Chris Waddle. The man set to take over is former Wrexham boss Brian Flynn who will bring with him his assistant from the Racecourse, Kevin Reeves.
Flynny has been working at the Turf since his departure from Wrexham early last season but now looks ready for his second managers job. An appointment is expected sometime next week.