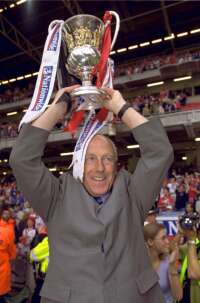 Ray Graydon celebrates the 2001 play off victory
That was certainly the case yesterday as Walsall's Ray Graydon was sacked, Walsall becoming the ninth First Division club to change manager this season. I'm not sure what Walsall expected of him but having won them two promotions in his three years at the club, albeit with a relegation in between, it was still not good enough. And that was despite the club's owner Jeff Bonser admitting that he had steered the club through one of its best ever periods.
Ray Graydon took them up to the First Division in 1999 for the first time since 1988/89 and then after failing to keep them up returned after a play off victory. All this has been achieved with very little financial resource.
They slipped into the bottom three on Saturday as Sheffield Wednesday passed them after winning at the Turf and yesterday Walsall decided to look for a new manager. Bonser said it was the most difficult decision he has ever had to make.
Today there was another casualty with former Burnley apprentice Chris Nicholl losing his job as first team coach. Nicholl only rejoined the West Midlands club two months ago as was reported HERE on Clarets Mad.
Bonser issued the following statement, "I had an amiable meeting with Chris. We discussed the situation and agreed that since he had been appointed by Ray Graydon, and with new management coming into the club, it would be in the best interests of both parties for him to leave. We would like to thank Chris for his services, and wish him well for the future."

Who will replace Graydon and Nicholl? We won't have to wait long and the new boss will be unveiled at 12:30 tomorrow. It rather suggests that it had all been lined up before this week's sackings.