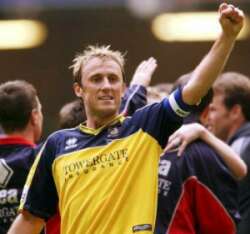 Mark Yates celebrates the play off win
It has been 3
rd
Division Play Off Final Day at the Millennium Stadium Cardiff as the team that knocked us out of the Worthington Cup took on the team that knocked us out of the FA Cup.
Our FA Cup conquerors Cheltenham Town were much the better side on the day against Rushden & Diamonds and deservedly won the game 3-1 and with it a place in the 2nd Division for the first time in the club's history.
There were two former Burnley players in the squad, Neil Howarth was an unused sub but the Cheltenham captain collecting the trophy at the end of the game was Frank Casper's last Burnley signing Mark Yates. He spent a couple of years before moving to Doncaster and then disappearing into non league football before returning with Cheltenham.
He is now set to play at 2nd Division level for the first time since he came on as a sub for the Clarets at Mansfield in early 1993.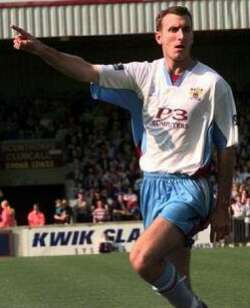 We're up, Glen's just scored the winner
Today couldn't pass without mention of that magnificent day at Scunthorpe two years ago to the day. None of us need reminding of the day we won promotion back to the 1
st
Division on a wonderful day at Glanford Park.
Two years later we are still here, when so many predicted an immediate return to the 2nd Division with relegation, and we are now looking forward to our third season at the higher level.
Micky Mellon and Glen Little scored the goals on that memorable day but there have been some big changes to the squad since. Mellon is one of nine players from that game who are no longer on the playing staff at the Turf. The team was:
Paul Crichton, Dean West, Steve Davis, Mitchell Thomas, Graham Branch (Glen Little), John Mullin, Lenny Johnrose, Micky Mellon, Paul Cook, Andy Cooke (Ian Wright), Andy Payton (Ronnie Jepson). Subs not used: Gordon Armstrong, Alan Lee.