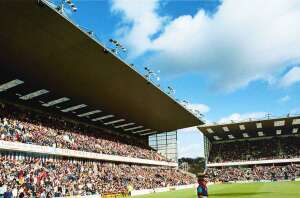 Turf Moor - home of Burnley reserves
It shouldn't really be news worthy but the club have announced it because they say there has been a lot of speculation that we could move the games to the Crown Ground, home of Accrington Stanley.
Speculation is not the right word, suggestion would be better, and the suggestion that the club could be moving came from Chairman Barry Kilby at the Meet the Board Meeting last month. It was just a suggestion, and with no particular venue in mind, and certainly received a resounding no from those at the meeting who attend the reserve team games on a regular basis.
The reason given was to protect the pitch, and let's face it we don't have the best playing surface in the world, but at the end of the day the reserves do only play twelve home games each season.
It is in fact the state of Gawthorpe that brings about the most damage to the pitch. With the training ground constantly out of action due to waterlogging the Turf has had to be used too often for training purposes. It is almost at times going back fifty years and the days when all the training was carried out at the grounds.
Clarets Mad have enjoyed trips out to Leigh RMI, Mossley, Bamber Bridge, RAF Cosford, Solihull and Lancaster City in the last two seasons but welcome the confirmed news that we will be playing our reserve team home games at the one place we should always play them, Turf Moor. Next season we will be asking you once again to help boost the crowds and 'Roll up for the Reserves'.