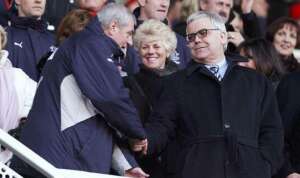 Walter Smith and Our Gordon Clegg
Chairman Barry Kilby said as much last week but Everton boss Walter Smith said he was going nowhere and that appeared to be the end of the matter. Suddenly there is turmoil at Goodison Park following a mad seven minutes that saw them concede three goals to Middlebrough in the FA Cup 6
th
round tie on Sunday and the subsequent 3-0 defeat.
Smith is once again under pressure to quit and from comments on Merseyside it could also be that the board are split on whether to keep him. Gazza has said he would consider his position at Everton should Walter Smith be sacked and that would almost certainly mean Burnley making another move.
So it is then that Gazza's chances of coming to Burnley rest with a former resident of Coronation Street's corner shop, Gordon Clegg. Then he was the illegitimate son of Rovers Return barmaid and hot pot expert Betty Turpin (Our Gordon) but now uses the name of impresario Bill Kenwright.
Kenwright was the man who in the end forced Peter Johnson (public enemy number one) out of Goodison Park although Sir Philip Carter holds the position of chairman. Kenwright is known to be a supporter of Walter Smith and would certainly want him to continue until the end of the season. There have been lots of rumours that he will be replaced by Wolves boss David Jones in the summer and certainly they would find it difficult to get Jones now with Wolves looking likely to return to the Premiership.
The goings on at Goodison will be of great interest to all the Everton fans as they fight yet another relegation battle. It will be of great interest to all the fans of the other clubs fighting relegation and we Clarets will be taking more than just as passing interest in the goings on at a club once known as the Millionaires.