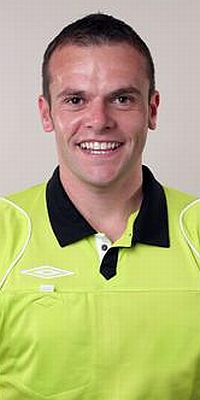 Eltringham's only two Burnley games previously have both been against Leicester, the home games in each of the last two seasons.
He had a disappointing game when we beat them 3-0 in the second home game of the 2010/11 season but that was nothing compared to the poor performance last season when I described his performance as bizarre. He left the crowd wondering what he was going to do next as he showed little sign of any consistency.
This is his fourth season as a Football League referee having previously been involved as an assistant. He was hardly used at Championship level in his first two seasons, but last season 14 of his 39 games were at the Football League's top level.
It's similar this season and tonight's will be his fifth Championship fixture of the 2012/13 season in what will be his twelfth game. In the eleven to date there have been 27 yellow and two red cards.
Of those yellow cards, 15 have gone to home team players and 12 to away team players. The two red cards have both been away players. He dismissed Wigan's Antolin Alcaraz in their 4-1 COCUP win at Nottingham Forest and more recently sent off Dean Holden of Walsall in a 1-0 defeat at Sheffield United. Holden had given away a penalty that produced the only goal of the game.
His last game was the FA Cup tie against Northampton and Bradford City on Saturday. The game ended 1-1 and there were three players yellow carded. They were Northampton's Anthony Charles and Ben Tozer along with James Meredith of Bradford City.
Geoff Eltringham is currently 61st (third from bottom) in the RATE THE REF Table with a rating of 39.53 out of 100.
The assistant referees tonight are Scott Oldham (Lancashire) and Richard Bartlett (Cheshire). The fourth official is Paul Hodskinson (Lancashire).
Previous Burnley Games
Season

Opponents

V

Res

Y

R

Burnley Players Carded

2010/11

Leicester City

h

3-0

2

0

n

Marney, Wallace

2011/12

Leicester City

h

1-3

0

0