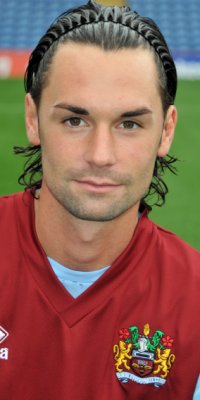 Chris Eagles - leads the chase for the Player of the Year
Three games have been played since, starting with the 2-0 defeat at Everton two days after that Bolton game. Michael Duff, getting just his second start of the season, took the man of the match with 22.9% of the vote. Behind him were Chris Eagles (19.5%) and David Nugent (17.3%).
Andre Bikey won the player ratings with a rating of 7.68 out of 10. Brian Jensen was second with a rating of 7.58 and Duff third and his rating was 7.42 out of 10.
Duff picked up four points towards the Player of the Year with Bikey winning three points, Eagles and Jensen two and Nugent one point.
Onto the cup tie at MK Franchise and it was the turn of Steven Fletcher to come out on top. He took the man of the match with 40.9% followed by Eagles 22.0% and Jensen 10.1%.
The player ratings was won by Jensen (7.79), Fletcher was second (7.58) with Eagles third (7.42). That gave Fletcher five points, Jensen four and Eagles three.
Finally, last Saturday's defeat against Manchester United at Old Trafford saw three players take the points. Eagles won the man of the match with 50.1% with the two central defenders, Duff and David Edgar, winning 24.5% and 14.0% respectively.
Those two defenders came out on top in the player ratings. Duff won it with a rating of 8.06 with Edgar in second place with 7.72. Eagles was third and his rating was 7.66 out of 10.
Points awarded for this game were Duff five, Eagles four and Edgar 3.
It all leaves Eagles sitting eight points clear of Fletcher at the top of the table with Fletcher another eighteen points behind Bikey in third place. It does look very much as though the race for the Clarets Mad Player of the Year is close to becoming a two horse race between Eagles and Fletcher.
The Current Table
54: Chris Eagles
46: Steven Fletcher
28: Andre Bikey
26: Tyrone Mears
23: Brian Jensen
17: Clarke Carlisle
15: Stephen Jordan
14: Wade Elliott
13: Kevin McDonald
11: David Nugent
10: Graham Alexander
9: Michael Duff
6: Fernando Guerrero
5: Chris McCann
4: Joey Gudjonsson
3: David Edgar
2: Robbie Blake & Diego Penny
1: Steven Caldwell