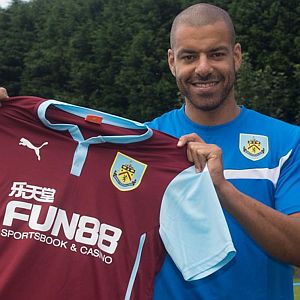 The 33-year-old Reid was released by West Brom at the end of last season but just a few days ago, despite our interest, looked as though he was going to join the coaching staff under new manager Alan Irvine at the Hawthorns.
Speaking to the Birmingham Mail just last Friday, he said that he'd decided to play on for one more season and had spoken to one Premier League club and one club in the Championship.
He said: "I want to see if there is a deal to be done and, fingers crossed, my future will be resolved this week.
"There was the possibility of a coaching role. After what was a really long and stressful season, the body feels good at the moment. We had a meeting a few weeks ago about me staying on in some (coaching) capacity but I've heard no more."
That Premier League club was Burnley and Reid, who can play right back or in midfield, has signed that one year deal with the Clarets and a season with his old team mate from Millwall Sean Dyche.
Reid has played for just four clubs. He moved to Blackburn from first club Millwall, had a loan at QPR and eventually joined West Brom after a loan spell there in 2010.
He was just 17 when he made his debut for Millwall, coming on as a substitute for Australian Lucas Neill in a final day of the 1997/98 season 2-1 defeat against Bournemouth who included both Ian Cox and Eddie Howe in their side.
His first appearance against Burnley was in January 1999 when we won 2-1 at the Den, courtesy of goals from Andy Cooke and Steven Davis but it was almost three years later before he played for the first time at Turf Moor in a 0-0 draw alongside current Burnley manager Dyche.
Earlier that season, he and Dyche were in the Millwall team that Burnley had beaten 2-0 in the searing heat of the summer and that was the day the actions of referee David Pugh and Reid led to some horrendous scenes outside the ground as Burnley fans were subjected to a sustained period of attack from Millwall fans.
We led 2-0, with goals from Ian Moore and Alan Moore, when Pugh, quite ridiculously, awarded Millwall a late penalty for a non-existent hand ball outside the box. After consulting with his linesman he at least admitted it was outside and changed the decision to a free kick, which ultimately came to nothing.
Reid wasn't happy and argued the toss, actions that got himself sent off which in turn prompted the frightening reaction from the home fans.
After playing in 139 league games for Millwall, he moved to Ewood Park in the summer of 2003 for a fee reported to be £2.5 million, to join Graeme Souness's team. He was a Blackburn player for seven years in total, making 113 league appearances for them.
HIs only games in local East Lancs derbies were the two cup ties in 2005 when he was used as a substitute in both games, replacing Tugay at Turf Moor and Jay Bothroyd at Ewood.
By the time we played in the Premier League in 2009 his time there was coming to an end. He had a month's loan at QPR from November to December and joined West Brom on a Football League emergency loan in March and helped them to promotion, leading to Roberto Di Matteo making the move a permanent one that summer.
He'd played only occasionally last season until March but on the day before he was part of the Sky team for our win at Ewood he was recalled to the Baggies' team for a home game against Manchester United and he went on to make seven more appearances in which they picked up 11 points.
Reid now joins Burnley for a year having played almost 400 career games and becomes our latest signing ahead of our return to the Premier League.