To say that Sean Dyche believes that goal-line technology should be introduced in the SKY Bet Championship after almost being robbed of a point at Brighton is an understatement.
Interviewed on SKY television post-match, Clarets' boss Sean Dyche was almost choking on feathers as he attempted to contain his anger at an incredible decision.
Michael Keane's 88th minute header clearly crossed the line. The goal however was not given as the Clarets looked to find a second equaliser in a tremendous top of the table Championship match-up between the first and second placed teams.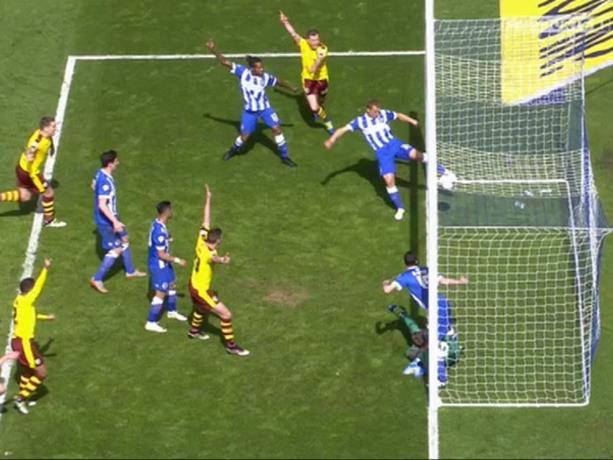 Photo source: Burnley Football Club.
Not to be denied, the Clarets saw justice was done when Keane replicated his earlier effort just three minutes later to earn Burnley a well deserved 2-2 draw.
The "golden handshake" for promotion to next season's Barclays Premier League is estimated to be worth in excessof £120,000,000 (that's one hundred and twenty million pounds folks!)
How can the FA allow these dreadful decisions to happen?Sean Dyche in my own opinion quite rightly questioned the non- introduction of goal-line technology in the Championship when the prestige and riches of top flight football are seriously jeopardised by awful refereeing decisions?
He said: "I would be surprised over the next few years, with all that's on offer in the Championship, we don't see technology being drip-fed down."
Dyche added, "That's no disrespect to Leagues One and Two, because I played there, but with the enormity of the Championship and the finances is generates, I would be surprised if they don't start looking at it."
"On days like today, when it was that obvious that the ball was over the line and it doesn't get given, you have no choice but to question the officials."
"Therefore, they obviously need help and I think it's appropriate at this level of the market that it comes into play."
Dyche went on to say, "I clearly couldn't see the goal that wasn't given from where I am, but what I could see is a group of players that was so instant."
"We all know you can't always judge a player's reaction to an incident, but when it is that instant and literally every player acts in that way within a millisecond, then usually that's a sign."
"I am very disappointed that wasn't officiated in the correct manner."
Famously, former Burnley boss Stan Ternent claimed following a dodgy refereeing decision against his Clarets that, "a blind man on a galloping horse could have spotted this one!"
Quite! (TEC)