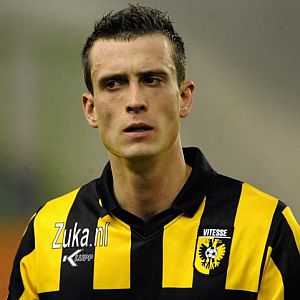 The 27-year-old has fallen out of favour under coach John van der Brom and has confirmed he will not sign a new deal in the summer when his current deal comes to an end.
That has led him to a five day trial with the Clarets and it looks as though he's enjoying himself, having told magazine Voetbal International: "The squad have adopted me directly and I am training at a very high level.
"Burnley are currently playing in the middle of the table and are looking to overrule opponents with technical football.
"It's in the early stages, but I am definitely interested in a foreign adventure."
Jenner started his career with NAC Breda before moving on to AZ Alkmaar in 2006, where he would have linked up with former Claret Joey Gudjonsson. During the 2008/09 season he signed for Vitesse Arnhem on loan, making that a permanent deal in the transfer window in the summer of 2009.
The last couple of years have seen him out of the picture at times and he's had two spells out on loan. In 2010 he went to Rot Weiss Ahlen and last year returned to his first club NAC Breda.
He's a tall player, and plays predominantly down the right wing. He has outstanding pace and due to his skills and stepovers is known as 'The Scissor Kid'.