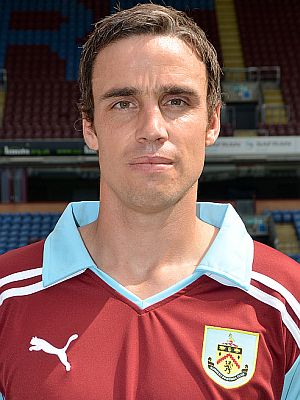 Such was the performance, the player ratings were low whilst the man of the match vote drew a very small number of voters.
Michael Duff came out on top in the vote despite playing only the first half before being withdrawn with an injury. He polled 34.7% of the vote with Jay Rodriguez, scorer of our first goal, taking second place.
Jay's share was 27.0% and Dean Marney had 12.1% which was enough to give him third place on his return to the side following the birth of his baby a week earlier.
The same three players took the top three places in the player ratings although this time it was Rodriguez who came out on top with a rating of 7.08 out of 10. Duff and Marney were the only other players to score above the average performance rating of six with Duff's 6.54 taking second place and Marney coming third with a rating of 6.15 out of 10.
That means five points each for Duff and Rodriguez towards the Clarets Mad Player of the Year with two points for Marney.
Those points have changed the table too with Jay moving into first place, four points clear of Kieran Trippier. Marney remains in fourth place and Duff has now moved above Charlie Austin and David Edgar into sixth place.
The next vote will get underway on Saturday evening after the Crystal Palace home game and the results from the Watford game with the current player of the year table are below.
Man of the Match
34.5% - Michael Duff (60 votes)
27.0% - Jay Rodriguez (47 votes)
12.1% - Dean Marney (21 votes)
4.6% - Lee Grant (8 votes)
4.0% - David Edgar & Ben Mee (7 votes)
3.4% - Ross Wallace (6 votes)
2.9% - Brian Easton (5 votes)
1.7% - Chris McCann, Josh McQuoid, Martin Paterson & Kieran Trippier (3 votes)
0.6% - Charlie Austin (1 vote)
Player Ratings
7.08 - Jay Rodriguez
6.54 - Michael Duff
6.15 - Dean Marney
5.92 - Lee Grant & Kieran Trippier
5.69 - Ross Wallace
5.08 - David Edgar
5.00 - Ben Mee
4.92 - Charlie Austin
4.77 - Chris McCann
4.69 - Josh McQuoid
4.23 - Martin Paterson
3.54 - Brian Easton
Clarets Mad Player of the Year
63: Jay Rodriguez
59: Kieran Trippier
50: Marvin Bartley
43: Dean Marney
37: Lee Grant
32: Michael Duff
31: Charlie Austin
30: David Edgar
25: Ross Wallace
24: Chris McCann & Ben Mee
22: Andre Amougou
17: Keith Treacy
11: Brian Easton
5: Wade Elliott & Junior Stanislas
2: Martin Paterson
1: Zavon Hines & Danny Ings