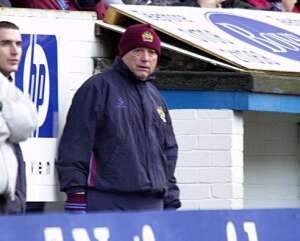 Stan looks less than happy with the performance
Then you thought better of it and realised that the only way Wednesday could win this game was if they played out of their skin and we were awful. Not quite unfortunately, yes we were awful but Sheffield Wednesday were probably the worst side that has been to the Turf all season. Even so they were still able to beat us and Kuqi was still able to get that winning goal.
You got the idea that it wasn't going to be the best of afternoons when the players came out to the strains of 'Let Me Entertain You'. They should have done but for some reason the pre-match build up was again all wrong as the dreadful cheerleaders were followed by timing that was so far out to be untrue. When they eventually did come out Arthur was noticeable with some ridiculous looking white boots. He had warmed up in them at Wimbledon but this time he was set to play in them.
Defensively they were nothing other than a complete shambles and yet, despite this, at no time did we ever look as though we might score a goal. We may well have been playing a side that looks a long way from being good enough for this division but we were no better today, if in fact we were as good as them.
Stan described last week's game against Wimbledon as ugly and there was no doubt that it would be today, Wednesday know no other way to play. They are one of those sides that push referees to the limit and when you get a weak one then they have a ball.
After keeper Pressman was stretchered off the game restarted with a throw in to Wednesday after the ball had gone out of play some 5 yards or so in their own half. It was eventually taken some 20 yards the other side of half way. They had done this all afternoon to get Leigh Bromby further up the pitch to take his long throws, they wasted time almost from the off and generally just went out of their way to disrupt the game.
Unfortunately we just didn't have a clue how to cope with them and although we had a lot of possession in the first half all the chances fell to the visitors. Sheffield Wednesday are rank bad at the back and given the way they went about their business up front they didn't look a lot better there either.
Having said that we weren't giving them any trouble and as shaky as we looked at the back it did come as something as a surprise when they did take the lead. Needless to say it came straight from sheer bad defending and not from anything they had created.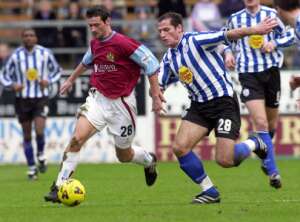 Alan Moore gets past Shefki Kuqi
We did come close to getting back into it just before half time when Alan Moore crashed a shot against the bar from some distance but then we came close to conceding a second right on half time. The Turf Moor fans who always seem to target someone when things are not going well turned on Graham Branch and I have to say that his first half performance was nothing short of dreadful. Would he return for the second half or would we switch it round and get Paul Cook on?
Half time saw Tommy Cummings receive a warm welcome as he made his way to the centre of the pitch to make the half time draw and then just to prove that things could get worse than the first forty five minutes we were treated to the embarrassingly bad cheer leading team. They really don't seem to be getting any better, in fact they looked even worse today.
Branch was off for the second half but it wasn't Cooky on, he was replaced by Brad Maylett who hopefully was going to at least provide us with some width. Thankfully Arthur's white boots were also off as he returned in a pair of more traditional white boots. The one thing I can say about the second half was it was no better than the first. Wednesday were still dreadful and we still looked totally incapable of getting back into the game.
Eventually with some 15 minutes or so left we got ourselves back into the game when we were awarded a penalty for handball. No Payton, no Cook and no Little so amazingly Gareth Taylor stepped up to take the penalty. All Taylor's goals this season have been scored with his head but on this occasion he didn't try and head the penalty in and hit it high and with some power to draw the Clarets level.
Suddenly the whole atmosphere changed and within the next five minutes we could easily have had two more. Another awful header from a Wednesday defender left us with an almost open goal but Taylor and West decided to get in each others way and the chance went begging and then Taylor was through only to be denied by the keeper.
This changed the whole game, Pressman was injured and after two lengthy spells of treatment became the second Wednesday player stretchered off, following Marlon Broomes. With reserve team keeper injured in midweek young Sean Roberts came on as sub for his first team debut.
We had three minutes plus stoppage time to try and grab the winner against the rookie keeper. The stoppage time was a staggering seven minutes, yet to my reckoning given the long delays for the Broomes and Pressman injuries alongside the blatant time wasting it should surely have been around twelve minutes.
Grab the winner against the rookie keeper did I say? No chance because those last ten minutes altogether were totally dominated by the visitors. Two minutes into the extra seven and Kuqi did exactly what we were worried he would do and scored what was to be the winner but it could have been worse. Wednesday won a penalty, Arthur Gnohere received a yellow card that could, and probably should, have been red. It was a poor penalty and Nik, almost on the six yard line he came out that far, saved it.
It was only our second home defeat of the season, the first since August, but there are worrying signs. Again without Glen Little we looked a side not capable of creating chances. The two substitutes Maylett and Papadopoulos added nothing to the performance but with the squad down to the bare bones there is nobody else to bring in.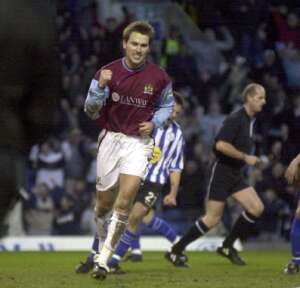 Gareth Taylor celebrates his equaliser from the spot
I couldn't understand why Paul Cook sat and watched the whole thing from the bench. He was bad last week at Wimbledon but we know Cooky is capable of producing that something that can win a game.
Man of the Match is never easy on days like this but I thought it had to be Kevin Ball who won so many balls in midfield both with headers and challenges only for his colleagues to let him down. Bally's battling qualities are definitely needed out there right now.
As for the referee, weak is the word. When we won the penalty why was Ashley Westwood not even spoken to? Surely that was a yellow card. And why did he not take any action against the constant time wasting and yard stealing? Having said that we should be thankful that he was weak otherwise Arthur could have been facing a suspension for a red card at the end.
We have just two points from the last four games and have scored just two goals in those games, one when we were already 4-0 down and the other from the penalty spot. We are in our worst run of form of the season and we looked anything like promotion candidates the way we performed this afternoon. We must not forget though that it is only a month ago since we won six league games in succession.
It's the cup next week and hopefully by the time West Brom get here two week's tomorrow we will have Robbie Blake at the club and Glen Little fit again to give us the lift that we quite clearly need at the moment.
The stands need to play their part too and the abuse aimed at Graham Branch and Gareth Taylor today was well out of order. We need to get right behind the players. Having condemned the fans at Cardiff recently it was also sad to see items thrown at Marlon Broomes from the Lower Tier of the Harry Potts as he was stretchered to the dressing rooms.
The teams today were,
Burnley: Nik Michopoulos, Dean West, Ian Cox, Arthur Gnohere, Graham Branch (Brad Maylett 45), Kevin Ball, Tony Grant, Lee Briscoe, Alan Moore, Ian Moore (Dimitri Papadopoulos 80), Gareth Taylor. Subs not used: Luigi Cennamo, Gordon Armstrong, Paul Cook.
Sheffield Wednesday: Kevin Pressman (Sean Roberts 87), Leigh Bromby, Marlon Broomes (Derek Geary 67), Ashley Westwood, Steven Haslam, Paul McLaren, Matthew Hamshaw (Alan Quinn 80), Trond Egil Soltvedt, Gerald Sibon, Efan Ekoku, Shefki Kuqi. Subs not used: Pablo Bovin, Danny Maddix.
Referee: Mike Pike (Barrow-in-Furness).