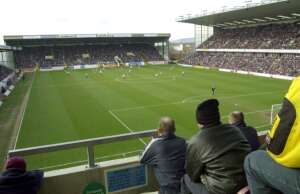 Where else but Burnley?
There might be occasions when the London Clarets would prefer to see Turf Moor in the South East and I'm sure the South West Clarets wouldn't mind it moving to Devon or Dorset once in a while. Overall though there is only one place Burnley Football Club belongs and that is Burnley and if you really believe that Burnley Football Club belongs in Burnley then please read on. Football needs your help.
It's the same with all football clubs, apart from not wanting it in our town Blackburn Rovers belongs in Blackburn just as Plymouth Argyle belongs in Plymouth and just as Wimbledon Football Club belongs in Wimbledon. Wait a minute, but aren't they moving Wimbledon some 70 miles to Milton Keynes?
What dreadful goings on in South London. Wimbledon have been away from home for ten years now, not too far at Selhurst Park but still away from home. There is nothing their fans would like more than to return to Plough Lane, their real home but the Scandinavian owners of the club with chairman Charles Koppel are hell bent on moving them away from London, a move that will all but kill the club.
The Borough of Merton would love them to return home to Plough Lane and the borough, by the way the Mayor of Merton is not only a football fan but a Claret. Everyone wants to move back except about 20 residents and the club owners.
The Football League told Wimbledon Football Club in no uncertain terms last August that a move was not permissible and but they have refused to take no for an answer and it is now going to arbitration. Should they get the go ahead then it changes everything in the game in this country. No longer will supporters of a club feel safe about their own club's location. The precedent will be set and there would be nothing to stop Barry Kilby from moving Burnley FC to Lands End.
Barry, I don't think for one minute that you would want to do that. I don't think for one minute that you would want to move the Turf anywhere but the possibility is there.
Burnley fans gave the Wimbledon lads some great help on Saturday offering support and buying their unofficial programme, a publication far better than the official programme. The Wimbledon fans are no different than any of us, they are supporters trying to support their club. They don't want it moving 70 miles away. What they are having to fight for right now is the right to get their club back where it should be but more than that they are having to carry out this fight on behalf of football supporters across the country. AND THEY NEED ALL OUR HELP.
What can we do? On Saturday they were handing out postcards and asking people to send them to the Football League Chief Executive David Burns. You can help now by doing the same thing. Just copy the following:
Dear Mr. Burns,
I believe that football clubs belong in the communities that gave birth to them. In the spirit of this I oppose Wimbledon Football Club's current owners being allowed to take the club 70 miles away from its supporters to Milton Keynes.
This move, if it were sanctioned, would open the door to franchising in football. No club would be entirely safe from being bought by unscrupulous owners and moved to a different part of the country.
Please keep up your efforts to stop Wimbledon FC's proposed move to Milton Keynes and to persuade their owners to return the club to Merton, where it was born.
You will need to add your name, full address and signature to this. Your phone number is optional.
Please then send it to
Mr. David Burns
Chief Executive
The Football League
11 Connaught Place
London W2 2ET.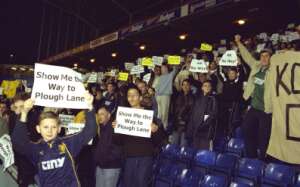 Wimbledon fans protesting
Remember that you are not just fighting for the Wimbledon fans here but for the whole of football. Do you know any football fans who don't visit this site? Please forward them the url and ask them to consider giving this their support.
There are times when football fans should stick together and this is one of them. Don't let this group of people running Wimbledon Football Club change the whole face of English football.
Further information on Wimbledon's fight can be found by visiting the Wimbledon Independent Supporters' Association (WISA) web site at www.wisa.org.uk
We are happy to publish below a piece from Simon Wheeler of WISA which he sent us following our visit there on Saturday.

---
Why Wimbledon FC's relocation to Milton Keynes is bad for the English Game.

Many that have read this site are probably aware that I have been given the opportunity to contribute, despite being a Wimbledon supporter. I am incredibleygrateful to the editor, whom has shown an unbelievable level of commitment and passion in portraying the message to Burnley supporters that Wimbledon F.C'S proposed relocation to Milton Keynes, is harmful to the English game.

I could ramble on for hours about how I felt when we won the F.A Cup, last minute equalisers at Old Trafford in the Cup, the pain and sorrow as my beloved team fell through the Premiership trap door at The Dell. To the vast majority of the Country, this is all that matters to any football fan. We all love football, we all feel passionately about our teams and all have quirky rituals which make up a Saturday afternoon. However, next time you visit Turf Moor take an opportunity to savour every single moment of the day, and think about the little things that make Burnley F.C. so special to your Community.

I am not talking about last minute winners against a mid table first division side, but the little things which at times we forget. Football Club's play an integral part of any Community. The joy as Football in the Community Schemes coach enthusiastic children. The smiles on the faces as three star players make the effort to visit sick children in hospital. The proud father or mother taking their child to their very first game, "Perhaps we will have the one in the bigger size, he/she will grow into it", as the first home strip is duly purchased. The three generations of a family sitting proudly side by side, watching and cheering the same eleven men on to victory. The celebrations as supporters complete unbelievable acts all in the name of THEIR Football Club. Without such practices football in this country would be vastly different. The majority of Football Club's respect their Communities, regardless of whether they compete in the Premiership or in Non League divisions.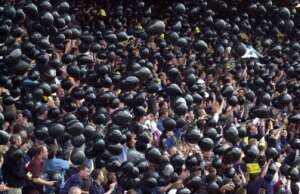 Black balloon protest at Selhurst Park
There is one notable exception, Wimbledon Football Club. Wimbledon's meteoric rise has always been described as a Hollywood like Fairy Tale, sadly now it is turning into one of the scariest Horror movies available. Wimbledon F.C. was forced to relinquish control of Plough Lane and enter into a ground share agreement at Selhurst Park. Wimbledon F.C. has/had continued to benefit the Merton Community through Football in the Community, and supporters prominently felt the hardship of relocation. We were always promised a return to Merton, but have had to contend with defeating Dublin, a merger with Queens Park Rangers and now Milton Keynes. WISA has proven that Plough Lane is viable and feasible but the Football Club still persists in attempting to murder OUR Club.
August 2001, and the shock of opening a letter which carried the message, "We have agreed to relocate to Milton Keynes, subject to approval by the regulatory authorities". Approval was quickly denied and since late August, we have been eagerly awaiting the formation and verdict of the FA Arbitration panel, which will decide our fate. Wimbledon/Merton could potentially lose its greatest asset. Charles Koppel's ideology concerning Milton Keynes has been devised out of perceived personal financial gain. Not for one minute has he stopped to think about Football or the best interests of supporters and the local community. He has however, taken the effort to attend a three-hour meeting with twenty local residents that are concerned about Wimbledon returning to our rightful home, Plough Lane. Slightly under 200,000 other residents have not been considered by Wimbledon F.C., simply because they will have no positive impact in obtaining Koppel the money he believes he will receive in Milton Keynes. The residents of Merton want Wimbledon F.C. back, not only that but they WILL attend fixtures. That was the verdict of an ICM independent poll commissioned by the Wimbledon Independent Supporters Association. Koppel has made some halfhearted rambles about continuing an association with the present local community, if the verdict is reached in his favour. I don't for one minute believe him; Wimbledon F.C. will be murdered as soon as feasibly possible and duly named Milton Keynes F.C, or MKDons, and all benefits previously offered to OUR Community removed.
I find it incredibly emotional to discuss or write about this topic. I do not believe that Milton Keynes is viable. Northampton is eight miles up the road and has attendances around the 3,500 mark, Luton is twenty miles down the road and has similar attendances. Milton Keynes is a new town, and those that follow football have already made their choices concerning which team to follow. I bet if you obtained a Claret season ticket holder list, a few Milton Keynes postcodes will pop up!, and MK Clarets will tell you that they are happy to make the long journey every other week to the Turf. I went to Milton Keynes with Radio 5 when the story first broke, I walked into a shop and five football fans supporting Villa x2 , Spurs, Arsenal and Sheffield United all stated that they categorically didn't want to see Wimbledon in Milton Keynes, and that all football supporters in MK supported the Club where they were brought up or had family ties too. Football supporters will not change their allegiances, and more importantly football supporters want their Clubs to benefit the Community bearing the same name.
May I take this opportunity to thank Clarets Mad, the London Clarets for their overwhelming support, the Claret contingent at Fans United day and all Burnley supporters that purchased Yellow and Blue, filled in a Community Thing postcard and those that held up a WISA banner at the Turf.
IT'S A COMMUNITY THING - Wimbledon FC Belong in WIMBLEDON