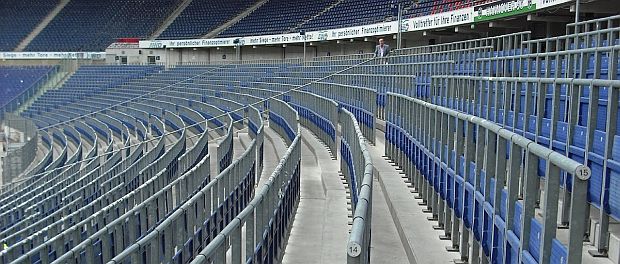 At last summer's Football League AGM the majority of its clubs passed a resolution charging the league's executive to explore the steps necessary for a safe standing trial to be run.
Following research, including a visit to Germany to examine the rail seat method used in Bundesliga stadia, the league has sent a detailed paper to the 72 Football League clubs and has asked for a response to four different questions.
1. Should the Football League approach the minister for sport to request that the 'all-seater' stadia requirement for Championship clubs be reviewed with a view to the re-introduction of standing accommodation?
2. Should the Football League approach the Sports Ground Safety Authority to request that rail seating products be licensed in Football League grounds?
3. Should clubs be permitted to accommodate supporters in rail seating in the Championship?
4. Should clubs be permitted to revert from seating to standing accommodation in League One and League Two following relegation from the Championship?
Last week I met with Lee Hoos (Chief Executive) and Cliff Edens (Safety Officer) at Turf Moor to discuss this and they indicated that the club would be voting YES to the first three on the list by the deadline of 24th January, two weeks from today.
Clarets Mad joined forces with the supporters clubs at Burnley over a year ago to act as the Burnley representatives with the Football Supporters Federation (FSF), in particular on the subject of safe standing.
A year ago we had a fantastic response from you on a number of questions and we believe now is the right time to ask again for your views on the subject. The FSF have set up a short survey for us and we would be grateful if you could spare a couple of minutes to fill it in.
This is an ideal opportunity, at an ideal time, to get your views across. The results will be made available to Burnley FC and therefore it is also an opportunity to lobby them to ensure they make the correct decisions on behalf of the supporters.
We would also be very appreciative if you could pass on the link and information to friends and family via word of mouth, social media etc. to ensure as many Burnley fans as possible are given the opportunity to complete the survey which will close at noon on Tuesday 21st January.
All you need to do now is click below to complete the survey.