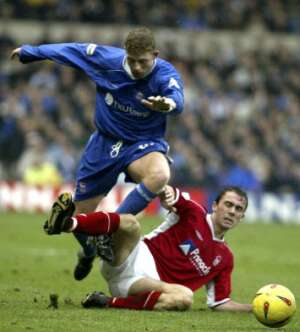 Action from Forest v Ipswich
In fact the Clarets, in ninth place, were the highest placed club to lose as it became a day for the top boys. It leaves us four points adrift of Wolves, a place above us.
It wasn't all plain sailing for them though and runaway leaders Portsmouth had a tough task seeing off Walsall who benefited from two penalties both scored by ex-Claret Danny Sonner. Defender Matthew Taylor won it for them.
Second place Leicester went to the land of goals at Grimsby and won it with a sensible looking scoreline of 2-1. It doesn't tell the story though and Grimsby were unfortunate not to get something from the game with Leicester winning it with a stunning goal from Muzzy Izzet. His overhead kick from some 15 yards gave Grimsby keeper Danny Coyne no hope whatsoever.
Burnley's next league opponents Nottingham Forest saw off revitalised Ipswich and it was almost scripted that David Johnson would do the damage against his former club. He got both in the 2-1 win and with his midweek goal he now has a total of 18 league goals this season. It is our turn next. Norwich had a tough battle against Derby but eventually won through 1-0 with a goal from central defender Malky Mackay.
Reading won 1-0 at Brighton and that result is becoming as predictable as it was for West Brom last season. Reading have won their last six games without conceding a goal and five of those wins have been 1-0.
It was a last minute goal from Wayne Allison that won the day for Sheffield United against Palace at Bramall Lane after Palace had fought their way back into it. There was no place for Nik Michopoulos again, he had to settle for a seat on the bench.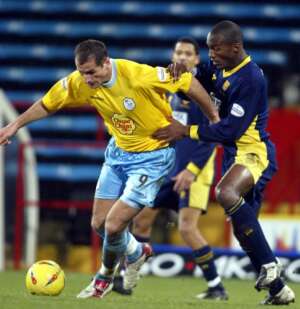 and from Franchise v Wednesday in front of the home stand
Across the city and things are looking bleak for Sheffield Wednesday, they went down at Franchise 3-0 in front of a gathering of just over 2,100, the sort of attendance that warms the heart of Franchise chief Charles Koppel with its atmosphere. Chris Turner hasn't been able to wave any sort of magic wand and things are really looking desperate for a side who were in the Premiership less than three years ago.
One new boss finally got off the mark, Stoke's Tony Pulis, as his side earned a point in a 1-1 draw against his old club Gillingham at the Priestfield Stadium. They fell behind to a goal from another former Burnley player, Paul Shaw, but just four minutes later levelled with a long distance strike from Clive Clarke. One player not enjoying life with Pulis must be Andy Cooke who cannot get a game, he was an unused sub on Saturday.
Preston failed to get a draw, winning the game at Coventry with a late goal. Coventry had to play without Youssef Safri. He was on the bench after manager Gary McAllister considered him too weak to start after fasting for Ramadam.
Millwall beat cash strapped Bradford 1-0 and finally Rotherham drew 0-0 at home again this time against Wolves in a match that saw thousands switching off their televisions. It was probably as poor an advertisement for First Division football that Sky have shown this season.
There are no midweek fixtures this week but a full fixture list next weekend:
Saturday 7th December
Bradford City v Gillingham
Burnley v Nottingham Forest
Crystal Palace v Millwall
Derby County v Watford
Ipswich v Rotherham United
Leicester City v Sheffield United
Preston North End v Franchise
Reading v Portsmouth (12:00 noon)
Sheffield Wednesday v Brighton and Hove Albion
Stoke City v Coventry City
Walsall v Grimsby Town
Wolverhampton Wanderers v Norwich City
Leading Goalscorers (League only)
18: David Johnson (Nottm. Forest)
11: David Connolly (Franchise)
11: Neil Shipperley (Franchise)
11: Svetoslav Todorov (Portsmouth)
10: Richard Cresswell (Preston)
10: Alan Lee (Rotherham)
10: Paul McVeigh (Norwich)
9: Nathan Blake (Wolves)
9: Ricardo Fuller (Preston)
8: Carl Asaba (Sheffield United)
8: Darren Byfield (Rotherham)
8: Andy Johnson (Crystal Palace)
8: Steve Kabba (Sheffield United inc. 6 for Grimsby & 1 for Crystal Palace)
7: Brian Deane (Leicester)
7: Paul Dickov (Leicester)
6: Darren Ambrose (Ipswich)
6: Robbie Blake (Burnley)
6: Malcolm Christie (Derby)
6: Andy Cooke (Stoke City)
6: Pablo Counago (Ipswich)
6: Jamie Cureton (Reading)
6: Nicky Forster (Reading)
6: Marlon Harewood (Nottm. Forest)
6: Heidar Helgusson (Watford)
6: Junior (Walsall)
6: Jorge Leitao (Walsall)
6: Jack Lester (Nottm. Forest)
6: Paul Merson (Portsmouth)
6: David Nielsen (Norwich)
6: Vincent Pericard (Portsmouth)
6: Dean Sturridge (Wolves)
6: Gareth Taylor (Burnley)