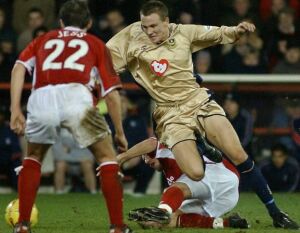 Matthew Taylor attacking for Portsmouth at Forest
The two sides, along with Brighton who were picking up a point against the Clarets, were all stuck at the bottom six points behind anyone else.
But it was Stoke who won the battle of the bottom with a last ditch goal from Brynjar Gunnarsson after Wednesday had twice come back from behind with loan players Allan Johnston (Middlesbrough) and Adam Proudlock (Wolves) their best two players.
The win finally brought to an end a long run without victory for Stoke and also provided Tony Pulis with his first victory as boss.
Reading climbed back into the top six on a day when none of the clubs who started the day in the play off places could find a victory. Reading broke out of their recent runs of three successive defeats to beat Derby with an injury time winner scored by Jamie Cureton. It was Cureton's first goal since the two he scored against the Clarets in August.
Those four clubs who failed to find a win were Sheffield United and Coventry who drew 0-0 at Bramall Lane, Norwich who came from behind to get a point at Grimsby and Nottingham Forest who were beaten 2-1 at home to league leaders Portsmouth.
Apparently Portsmouth outplayed Forest but manager Harry Redknapp still insisted that their best performance of the season had been at the Turf. Why did they have to do it against us?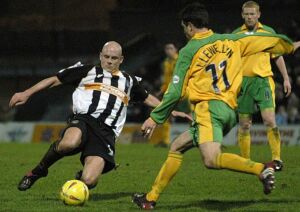 Stacy Coldicott gets a shot in during Grimsby's home draw with Norwich
Portsmouth needed the win to remain four points clear after Leicester came from behind to win 2-1 at Watford although it was in controversial circumstances with the equaliser being allowed to stand despite two players being offside.
Leicester now have an eight point lead over 3rd place Sheffield United but before anyone suggests that the top two have all but clinched promotion it is worth taking a look back at last season. At the same stage it was Burnley and Wolves who occupied the top two places.
Wolves' drop from the promotion places was even more dramatic than ours and right now remain just one point above us after a pointless Christmas. They followed up their defeat at the Turf by whinging their way to another 2-1 loss, this time at home to struggling Bradford City.
It is worth noting that Paul Ince was yellow carded for dissent although Alex Rae missed the game. Surely the best Christmas present Ince could have received this year was something to tape up his big mouth.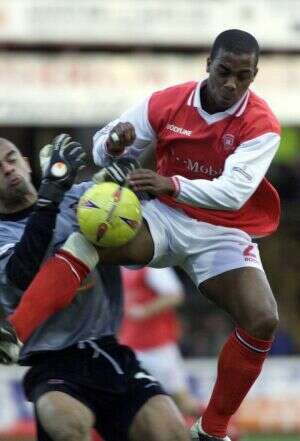 Darren Byfield of Rotherham gets past Millwall keeper Tony Warner
Mr. Misery Trevor Francis climbed ever nearer to the top six with another win, this time 2-0 at home to Preston. Palace now have 13 points from their last 5 games but it is all so different for Preston who now find themselves in 18
th
place in the league. The Deepdale fans have not taken to Craig Brown at all and once again were putting him under severe pressure.
Rotherham continued their recent form and having won at Preston on Boxing Day were again beaten at home with Millwall taking maximum points with a comfortable 3-1 win. The Millers have failed to win any of their last four home games yet have maximum points from their last three on the road.
Finally ever improving Ipswich won again, 3-2 at home against Walsall and have now climbed to 14th place in the table.
In a tight league anything can happen and Preston's Craig Brown is still talking about promotion via the play offs from his 18th place.
There is a full programme on New Year's Day but next weekend all First Division clubs will be involved in the FA Cup. All Wednesday's games kick off at 3:00 p.m. except where otherwise shown.
Wednesday 1st January 2003
Brighton and Hove Albion v Franchise
Crystal Palace v Coventry City
Gillingham v Norwich City
Grimsby Town v Bradford City
Ipswich Town v Millwall
Nottingham Forest v Walsall
Reading v Leicester City (1:00 p.m.)
Rotherham United v Sheffield Wednesday (12 noon)
Sheffield United v Burnley
Stoke City v Preston North End
Watford v Portsmouth (5:35 p.m.)
Wolverhampton Wanderers v Derby County
Leading Goalscorers (League only)
19: David Johnson (Nottm. Forest)
14: David Connolly (Franchise)
12: Alan Lee (Rotherham)
12: Svetoslav Todorov (Portsmouth)
11: Darren Byfield (Rotherham)
11: Richard Cresswell (Preston)
11: Neil Shipperley (Franchise)
10: Paul McVeigh (Norwich)
9: Nathan Blake (Wolves)
9: Pablo Counago (Ipswich)
9: Brian Deane (Leicester)
9: Paul Dickov (Leicester)
9: Ricardo Fuller (Preston)
9: Andy Gray (Bradford)
8: Carl Asaba (Sheffield United)
8: Jay Bothroyd (Coventry)
8: Andy Johnson (Crystal Palace)
8: Junior (Walsall)
8: Steve Kabba (Sheffield United inc. 6 for Grimsby & 1 for Crystal Palace)
8: Gareth Taylor (Burnley)
7: Darren Ambrose (Ipswich)
7: Richie Barker (Rotherham)
7: Robbie Blake (Burnley)
7: Jamie Cureton (Reading)
7: Marlon Harewood (Nottm. Forest)
7: Heidar Helgusson (Watford)
7: Jorge Leitao (Walsall)
7: Gary McAllister (Coventry)
7: Paul Merson (Portsmouth)
7: Vincent Pericard (Portsmouth)
7: Jamie Scowcroft (Leicester)
Below are a list of average attendances in the division although this is somewhat strange now given that Burnley have decided to change the way they give out such information during the season.
This change meant that for the game against Rotherham they actually recorded an attendance of 14,121 when in fact, given the way attendances have been given previously this season, it was 12,585.
It is all rather confusing with recent comments from the Chairman and the Chief Executive contradicting each other. We can only use the attendances given and so for the Rotherham game onwards we will include the new figure inflated with the inclusion of non attending season ticket holders.
The averages are as follows:
| | | |
| --- | --- | --- |
| Team | Average | Highest |
| | | |
| Leicester City | 28,634 | 32,082 v Wolverhampton Wanderers |
| Derby County | 26,336 | 33,016 v Reading |
| Ipswich Town | 24,798 | 29,112 v Norwich City |
| Wolverhampton Wanderers | 25,609 | 27,593 v Nottingham Forest |
| Nottingham Forest | 22,688 | 29,497 v Leicester City |
| Norwich City | 20,574 | 21,335 v Portsmouth |
| Sheffield Wednesday | 20,341 | 27,075 v Sheffield United |
| Portsmouth | 18,559 | 19,217 v Crystal Palace |
| Crystal Palace | 17,516 | 21,796 v Brighton and Hove Albion |
| Sheffield United | 16,291 | 20,465 v Coventry City |
| Reading | 15,665 | 23,462 v Portsmouth |
| Coventry City | 15,184 | 19,526 v Reading |
| Burnley | 14,113 | 18,641 v Wolverhampton Wanderers |
| Preston North End | 13,884 | 16,046 v Burnley |
| Stoke City | 13,787 | 16,885 v Wolverhampton Wanderers |
| Watford | 13,442 | 16,524 v Wolverhampton Wanderers |
| Bradford City | 12,595 | 14,575 v Stoke City |
| Millwall | 8,618 | 10,947 v Gillingham |
| Gillingham | 8,289 | 10,036 v Wolverhampton Wanderers |
| Rotherham United | 7,075 | 8,604 v Portsmouth |
| Brighton and Hove Albion | 6,405 | 6,845 v Derby County |
| Walsall | 6,227 | 10,459 v Sheffield United |
| Grimsby Town | 6,224 | 8,306 v Norwich City |
| Franchise | 2,670 | 6,538 v Crystal Palace |