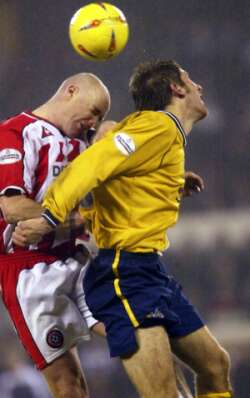 Robert Page beats Richard Cresswell in the air in Sheffield United's win over Preston
There is no suggestion that all of these decisions were wrong, although a couple of them certainly left us with some irate managers. Stan had a go at Grant Hegley whilst Forest boss Paul Hart was seen on the pitch remonstrating with Mark Cowburn. Hart later refused to talk about the referee he claimed,
"Has done more interviews than Cary Grant."
The problem is deeper than a few decisions whether right or wrong, it is without doubt a serious problem that needs addressing. Managers, players and supporters clearly have no respect for referees and the relationship is getting worse and worse. Certainly the aloof referee supremo Philip Don makes matters worse, he gives the impression he encourages this stand off.
There needs to be better communication between referees and others in the game and until that happens matters will only get worse. Whether he got the decisions right or wrong there is no doubt that Hegley wanted to be the star of the show at Gillingham and the way he took great delight in booking Graham Branch early in the game set the pattern for his entire performance.
Whether he made mistakes or not this is not the right attitude for a referee to have and is one that will clearly get the players' backs up.
But to the football and apart from Burnley's defence not bothering too much again we saw Leicester move yet another couple of points closer to the top. They won 1-0 at Brighton on Friday evening and then saw Portsmouth drop another couple of points with a 1-1 draw at home to Ipswich.
Ipswich must be the most inconsistent of teams. They can look awful at times but then they can turn in performances that suggest they should be up there fighting for one of the promotion places.
Brighton's defeat to Leicester didn't see a return to the bottom as Sheffield Wednesday were well beaten again, this time 2-0 at Grimsby. This was a six pointer and although we are only just over the half way stage it does look as though Wednesday could well be playing 2nd Division football next season.
Well done to Stoke, as well as taking a point off Franchise with a late, late goal their fans supported the boycott and only 1,697 saw the game. The point was enough to see the home side join Gillingham in climbing above the Clarets.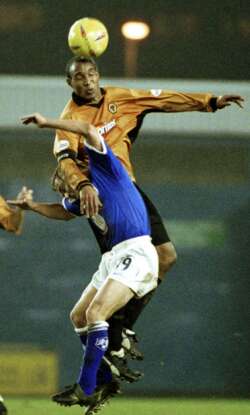 and Paul Ince beats Dennis Wise in the draw between Millwall and Wolves at the New Den
Reading finally conceded goals a week ago after seven clean sheets so needless to say there were more this weekend. David Johnson got another for Forest and he is just one short of 20 league goals for the season.
Wolves warmed up for the game at the Turf by taking a point from Millwall in a game they really should have won, don't expect their bad luck to continue on Thursday, a victory would have seen them back in the top six in place of Reading.
Although Forest won they still remain level on points with Norwich and Sheffield United who both won at home. Norwich came from behind to beat Walsall 2-1 whilst the Blades were 1-0 winners over Preston. Craig Brown had included three of his youngsters on the bench at Bramall Lane included Matthew O'Neill's brother Joe who had scored a hat-trick in midweek on the Turf.
In other game there were home wins for Coventry and Watford against Derby and Bradford respectively.
Obviously there will be a full midweek fixture list this week, all clubs play on Boxing Day. These and the weekend fixtures are shown below and kick offs are 3:00 p.m. unless otherwise shown.
Thursday 26th December
Bradford City v Stoke City (1:00 p.m.)
Burnley v Wolverhampton Wanderers
Coventry City v Reading (12:00 noon)
Derby County v Grimsby Town
Franchise v Watford (12:00 noon)
Millwall v Gillingham (12:00 noon)
Leicester City v Ipswich Town (6:05 p.m.)
Norwich City v Brighton and Hove Albion
Portsmouth v Crystal Palace
Preston North End v Rotherham United
Sheffield Wednesday v Nottingham Forest
Walsall v Sheffield United
Saturday 28th December
Brighton and Hove Albion v Burnley
Crystal Palace v Preston North End
Gillingham v Franchise
Grimsby Town v Norwich City
Ipswich Town v Walsall
Nottingham Forest v Portsmouth (5:35 p.m.)
Reading v Derby County
Rotherham United v Millwall
Sheffield United v Coventry City
Stoke City v Sheffield Wednesday
Watford v Leicester City
Wolverhampton Wanderers v Bradford City
Leading Goalscorers (League only)
19: David Johnson (Nottm. Forest)
14: David Connolly (Franchise)
12: Alan Lee (Rotherham)
12: Svetoslav Todorov (Portsmouth)
11: Darren Byfield (Rotherham)
11: Richard Cresswell (Preston)
11: Neil Shipperley (Franchise)
10: Paul McVeigh (Norwich)
9: Nathan Blake (Wolves)
9: Ricardo Fuller (Preston)
8: Carl Asaba (Sheffield United)
8: Jay Bothroyd (Coventry)
8: Brian Deane (Leicester)
8: Paul Dickov (Leicester)
8: Andy Johnson (Crystal Palace)
8: Junior (Walsall)
8: Steve Kabba (Sheffield United inc. 6 for Grimsby & 1 for Crystal Palace)
7: Robbie Blake (Burnley)
7: Pablo Counago (Ipswich)
7: Marlon Harewood (Nottm. Forest)
7: Jorge Leitao (Walsall)
7: Gary McAllister (Coventry)
7: Jamie Scowcroft (Leicester)
7: Gareth Taylor (Burnley)