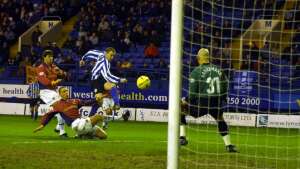 Alan Quinn starts Sheffield Wednesday's comback against Reading
Over recent years the Turf has been one of the first grounds to fall victim when the postponements are around but with the under soil heating switched on there shouldn't be a problem.
It was good to hear the news from Bradford and particularly from Preston that their games were off. The third to fall victim of the weather was the live Sky match between Portsmouth and Sheffield United at Fratton Park. With no consideration for the fans whatsoever, particularly those from Sheffield, the match has been re-arranged for tonight. Funny but it does seem that this ten day rule can suddenly be bypassed when television are involved.
Wolves were the only side to win away, a 1-0 win just down the road at the Bescot Stadium, and it came courtesy of the craziest goal of the weekend.
On a pitch that looked anything but suitable for football Walsall keeper James Walker missed the ball completely in trying to clear it as it bobbled horribly just in front of him. He chased back and managed to keep it out but pushed it just a couple of feet to the waiting George Ndah.
Injury hit Millwall picked up an easy 4-0 win against Watford at home with 18 year-old Peter Sweeney scoring his first ever goal in the last minute to complete the scoring.
But the performance of the day had to be Sheffield Wednesday's win over Reading. Struggling down at the bottom of the league they soon found themselves looking down and out at Hillsborough. With just nineteen minutes gone they were 2-0 down and that's how it stayed until half time.
But on 52 minutes Alan Quinn pulled one back and just nineteen minutes later they were in front. Gerald Sibon scored the equaliser with a long distance bobbling effort before on-loan Allan Johnston.
Johnston has struggled to find regular football in the last four years since turning down a new deal with Sunderland and now looks surplus to requirements at Middlesbrough. This was his second goal for Wednesday on his 3rd appearance.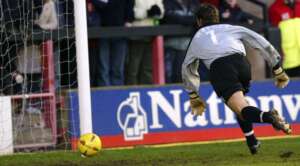 Walsall's James Walker chases back but it leads to the only goal of the game against Wolves
They remain next to bottom but suddenly other teams, looking over their shoulders, are suddenly finding the likes of Wednesday and Stoke a lot closer than they were.
Stoke too picked up a good result in drawing with 2nd place Leicester in a 0-0 draw at the Walkers Stadium whilst bottom club Brighton also collected a similar good point with another goalless game at Coventry.
Just above the bottom three are Grimsby and they were involved in the highest scoring game in front of the lowest crowd. Just 1,336 turned up at Selhurst Park to see the Mariners go 2-0 up and then 3-2 up against Franchise before having to settle for a point in a 3-3 draw.
The points for Stoke, Brighton and Grimsby though were all good points in what were tough away games.
Rotherham can't win a raffle at home just at present but don't seem to be able to go wrong away from Millmoor. They looked set for a fourth successive away win when they went 1-0 up against a Norwich side in their worst form of the season.
Darren Garner gave them the lead but a Paul McVeigh goal on the hour earned Norwich a point and despite just one win in the last six games they remain in fourth place.
Needless to say it is still Portsmouth and Leicester occupying the top two places and with a gap between 2nd and 3rd of points they will take some shifting. Sheffield United, Norwich and Forest take the next three places with Coventry's point taking them into the top six at the expense of Reading.
Down at the bottom Brighton, having climbed up a place recently, now find themselves four points adrift of Sheffield Wednesday whilst Stoke join them in the relegation places.
Grimsby are only a point clear now and Bradford, Walsall and Preston will need to be keeping a close eye on the goings on at the bottom.
This weeks fixtures below - kick off 3:00 p.m. unless otherwise shown
Monday 13th January
Portsmouth v Sheffield United (7:45 p.m.)
Friday 17th January

Sheffield United v Sheffield Wednesday (7:45 p.m.)
Saturday 18th January
Brighton and Hove Albion v Portsmouth (12:00 noon)
Crystal Palace v Burnley
Gillingham v Leicester City
Grimsby Town v Millwall
Ipswich Town v Preston North End
Nottingham Forest v Coventry City
Reading v Walsall
Rotherham United v Bradford City
Stoke City v Derby County
Wolverhampton Wanderers v Franchise
Sunday 19th January

Watford v Norwich City (12:00 noon)
Leading Goalscorers (League Only)
19: David Johnson (Nottm. Forest)
14: David Connolly (Franchise)
12: Alan Lee (Rotherham)
12: Svetoslav Todorov (Portsmouth)
11: Darren Byfield (Rotherham)
11: Richard Cresswell (Preston)
11: Paul McVeigh (Norwich)
11: Neil Shipperley (Franchise)
10: Pablo Counago (Ipswich)
9: Nathan Blake (Wolves)
9: Brian Deane (Leicester)
9: Paul Dickov (Leicester)
9: Ricardo Fuller (Preston)
9: Andy Gray (Bradford)
8: Carl Asaba (Sheffield United)
8: Robbie Blake (Burnley)

8: Jay Bothroyd (Coventry)
8: Andy Johnson (Crystal Palace)
8: Junior (Walsall)
8: Steve Kabba (Sheffield United incl 6 for Grimsby and 1 for Palace)
8: Gary McAllister (Coventry)
8: Gareth Taylor (Burnley)