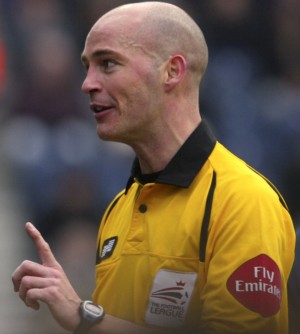 That Birmingham game was the first time he'd refereed us in over six years; all of this three previous Burnley games coming in 2006. Ahead of the Birmingham game I wrote: "He refereed us three times during 2006, at Hull and Cardiff and then the home game against Southampton, and it is fair to say he had three nightmare games."
I ended that report on the referee, written on the day before the game: "It's over six years since I saw this referee and hopefully he's a lot better referee in 2013 than he was in those three games in 2006."
Sadly that was very much not the case. Drysdale had yet another shocker with the only good news to come out of it for Burnley being the FA's decision to overturn the ridiculous red card for Dean Marney.
He dominated the game. He made sure everyone in the ground noticed him. Playing an advantage was not part of his brief but blowing his whistle and making controversial decisions very definitely was.
Incredibly he missed one big decision, a penalty to Burnley, and had to rely on his assistant for that. Then came the red card which mystified everyone with Birmingham manager Lee Clark saying after the game that he thought it was his player, Paul Robinson, getting the red card.
He's refereed seven games this season so far. There have been 23 yellow cards and four red cards. Thirteen of the yellow cards have gone to home team players and ten to away team players. The first two red cards went to away team players.
The other two reds came in his last game, Peterborough's 2-1 home win against MK Franchise three days ago. He yellow carded Danny Swanson, Britt Assambalonga, Lee Tomlin and Tyrone Barnett (all Peterborough) and also sent off two Peterborough players, Nat Knight-Percival and Mark Little.
Even winning manager Karl Robinson heavily criticised Drysdale after the game, and Peterborough boss Darren Ferguson, pointedly, said: "I don't want to make this referee's day by talking about him."
A sergeant in the RAF, based at RAF Coningsby, he's already had one two year break from refereeing when he was posted to Libya. I just sincerely hope this referee has taken a break from the way he's refereed Burnley games previously.
Darren Drysdale can be found in RATE THE REF but only for his last game, the previous Burnley games were before this feature was introduced. He's not too difficult to find; he's 67th out of 67 with a rating of 22.85 out of 100.
The assistant referees are Alan Clayton (Cheshire) and Alf Greenwood (North Yorkshire). The fourth official is Football League referee Scott Duncan (Northumberland) who refereed our recent home game against Yeovil.
Previous Burnley Games
Season

Opponents

V

Res

Y

R

Burnley Players Carded

2005/06

CARDIFF

a

0-3

2

0

n

Akinbiyi, McGreal

2005/06

HULL

a

0-0

4

0

n

Branch, McCann, J O'Connor, Sinclair

2006/07

SOUTHAMPTON

h

2-3

2

1

n

Gray

n

Thomas

2012/13

BIRMINGHAM

h

1-2

1

1

n

Wallace

n

Marney