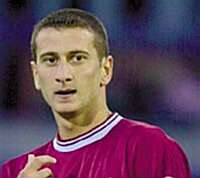 Dimitri Papadopoulos - not back on his way to Greece
Apparently a deal had been set up with Aris Salonika and it appeared to be all done and dusted. Surprising that since nobody at Turf Moor knows anything about it and Stan has actually said today that Dimitri is going nowhere.
That means we can expect him to be in the squad for the trip to Wimbledon on Saturday with suggestions still strong that there could be at least one new signing by then. Stan said just a few weeks ago that he needed to strengthen his squad and now surely is the time with five players unavailable through injury. Glen Little and Gareth Taylor have now joined Graham Branch, Steve Davis and Mitchell Thomas in the treatment room.
Thankfully Paul Cook and Andy Payton are back from loan spells and that gives us more options. I'm not sure I ever understood why we allowed Cooky to go to Wigan for a month when he was a regular member of the side. Stan admitted how pleased he was to see him back in the build up to the Canvey Island game.
Stan said, "I'm pleased to have Cooky back and he went straight into the squad for the Canvey Island game. But he has lost his place in the team and so it will be up to him to win it back.
"He went to Wigan on loan and that was just how it was at the time. But he is back now and we need him. I keep saying that we need to strengthen the squad and having Paul Cook back does that."
So Cooky and Payts back, Dimitri going nowhere so at least the squad has had some strengthening. The question is will any of the likes of Benado, Kuqi, Sibon or Spring be joining them?