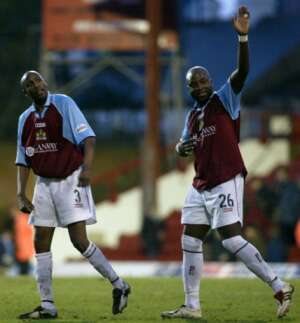 Driss and Arthur celebrate the cup win at Brentford
Although there has been no deal struck as yet on anything longer it does mean that there will be no need for further talks in March, April and May required.
The 30 year-old central defender has made a massive impact since making his debut against Ipswich almost four weeks ago and despite having to sit out the cup replay against Grimsby was straight back into the starting line up at Palace.
He has finally had to endure the same as all our central defenders, being there when we throw one in, but despite the five goals against he still received special praise from Stan after the game.
Stan will be delighted to know that he has him available for the rest of the season as will the fans who took to him instantly. It means we have no problem regarding competition for the central defensive positions. Driss and Arthur played on Saturday but there are Coxy, Mark McGregor and Stretch Armstrong all available with Steve Davis to come back.
Marlon will be the next target, his fifth monthly deal is at an end and the club are hoping to tie up a deal at least until the end of the season with him although the offer until the end of the 2004/05 season still remains.