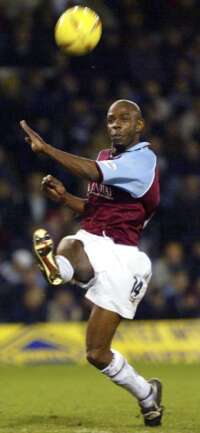 Ian Cox - set to return tonight
We have contacted the Football Association and the rules for the FA Cup state that a player must be signed at least one week before the tie. That being the case any player eligible to play in this replay must have been signed for his club on or before 28
th
December 2002, one week before the date of the first meeting.
This means that Driss Diallo who had such a good debut on Saturday against Ipswich is ineligible and will almost certainly be replaced by Ian Cox returning from suspension.
Fred West is back in the squad and this will create a dilemma for Stan with Mark McGregor having done so well on Saturday against Ipswich. Stan always says you can keep the shirt by playing well and so Macca will feel a bit unlucky if he misses out.
Marlon could be set for a return from a back injury and if so I expect him to go straight back in. However it will be touch and go whether he is fit enough.
Other than that we still have Gareth Taylor out suspended and Paul Weller, Steve Davis and Lee Briscoe ruled out with injury.
I expect Burnley to line up: Marlon Beresford, Mark McGregor, Ian Cox, Arthur Gnohere, Graham Branch, Glen Little, Tony Grant, Paul Cook, Alan Moore, Robbie Blake, Ian Moore.
Subs: Nik Michopoulos, Dean West, Gordon Armstrong, Andy Payton, Dimitri Papadopoulos.
If Marlon doesn't make it then Nik will go in goal and one of the youngsters will have 90 minutes on the bench.
Grimsby have a similar problem to the Clarets in that Michael Boulding will not be available although suggestions on Humberside are that he would not have made the team anyway. Boulding played on Saturday at Selhurst Park but looked completely unfit and had to be replaced at half time.
The scorer of the goal that took this game to a replay, Darren Mansaram, replaced him and he is expected to keep his place tonight. Also Stacy Coldicott is struggling having picked up an achilles injury at Franchise and he could be out for a number of weeks if the initial diagnosis is correct.
Grimsby are expected to line up: Danny Coyne, John McDermott, Paul Groves, Steve Chettle, Simon Ford, Terry Cooke, Iain Ward, Tony Gallimore, Stuart Campbell, Steve Livingstone, Darren Mansaram. Subs from: Shaun Allaway, Jonathan Rowan, Wes Parker, Chris Boulder, Chris Thompson and David Soames.
The man in the middle tonight is Graham Laws who so upset Stan with the award of a penalty at Grimsby that started the home team's comeback. Click HERE for more information on him.