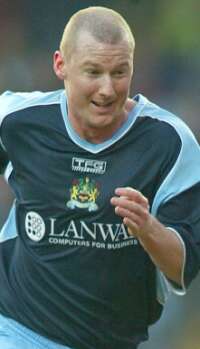 Lee Briscoe - looks set for Rotherham
Former captain Steve Davis, it has been reported, is interesting Bradford City but it is thought that he has already had talks with another First Division club along with a club in Division Two.
The club in our division is Sunderland and according to contacts on Wearside the Skipper has already had preliminary talks with manager Mick McCarthy. Steve would have felt at home there, besides former team mate Kevin Ball being on the coaching staff it is also the club he supported as a schoolboy.
Whether that comes to anything remains to be seen but he has also been in contact with Blackpool and it is thought that there have again been talks with manager Steve McMahon. That all suggests that he should have no problem winning himself a new contract elsewhere.
There were suggestions that Ronnie Moore was looking to bring in someone from Burnley and many thought it would be his son Ian. The fact is that Ronnie is unlikely to have much if any money available for transfer fees.
But he is in talks with Lee Briscoe and it looks as though Rotherham could well be announcing something soon with Briscoe expected to say yes to the Millers with what is thought to be a one or two year deal on the table.
And finally youngster Mark Rasmussen looks set to return to the North East and he could win a contract with newly promoted Hartlepool United. He finally made it onto the pitch for the first team at Burnley, making two substitute appearances in the home game against Gillingham and then at Forest.
He will now be hoping to continue his career in the Second Division at Hartlepool back in his native North East.