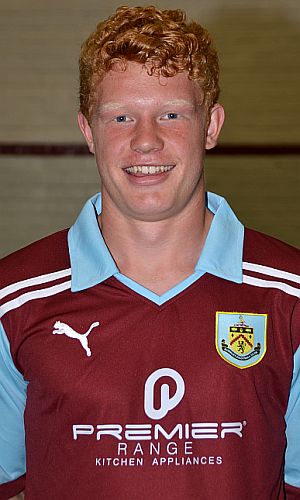 Jack Errington is one of six new professionals
Steven Hewitt signed his deal last October with both Luke Conlan and Cameron Howieson following on recently despite them only having been with the club for the first of two scholarship years.
Last week Clarets Mad confirmed that Jack Errington was another first year who had signed a deal and that's been confirmed by the club today with the deals for Tom Anderson, Alex Coleman, Adam Evans and Aryn Williams also confirmed. All six are now contracted professionally to the club until the end of next season.
Burnley have also confirmed that goalkeepers Josh Cook and Ben Woodhead along with midfielder Alex Mullin have been released leaving just Shay McCartan who we believe will be staying at the club on a professional deal.
Burnley have also revealed that both Alex-Ray Harvey and Joe McKee, two midfielders in the development squad, have been released.
New academy manager Jason Blake said: "When you talk about the criteria you measure the performance and success of youth departments by, I think one of the key indicators is the lads who progress on to get professional contracts, and any year-group when you are taking this number of players is an exceptional intake.
"There is no requirement on numbers. They have warranted contracts. It's not fortune, it's not luck. It's warranted and deserved for each individual."
He added: "The ambition of getting a pro contract can only be part of a stage of the journey. The ambition has got to be to be a regular on the first-team pitch. This is just a stage and it's very important now that the players enjoy the summer. It's been a long season for them with a lot of games with the cup run and populating the reserve team as well.
"When they come back next year it's a different set of criteria for them to try and achieve and the key thing is for them to push themselves into the first-team environment as quickly as possible.
"I think the manager has shown his intent at the back end of the season by giving them inclusion in the first team squad and game time as well. Knowing Eddie it's not something he would do just to publicise the department, it is something he would do that would be recognition of performance and the application of the individuals involved."