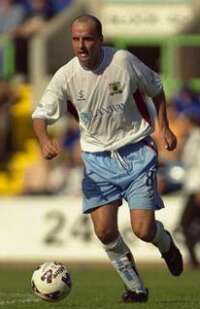 Man of the Match Paul Cook
Despite morning snow in the Crewe area as well as rain, hail, wind and just about everything else that could be thrown at us the first thing that was noticeable once inside was the playing surface. Was there even a blade of grass out of place? Just like the Cheltenham pitch it looked immaculate and many must have wondered just how they could have ever thought the game could have been in doubt.
The Clarets fans were given two of the bus shelters with the third and the one stand occupied by home supporters. The behind the goals shelter looked particularly impressive and in places is just two rows deep. Most of us were housed down the side and as last year I did reasonably well and got a decent enough view.
As the players warmed up before hand many were asking who the mystery player was out in the middle. Had we signed a new player many asked but not it was Mark McGregor suddenly appearing from nowhere to claim a place on the bench for the first time since we played at Nottingham Forest.
When the team was announced we thought the guessing games on the line up were over with Gordon Armstrong replacing Arthur and Cooky back for Tony Grant. Not so though, with Stretch Armstrong taking up a position in midfield with Bally at the back. Stretch didn't have a long return though and was substituted during the first half with Branchy coming on and going to left back with Briscoe going into midfield.
There were fears that we might have hit Crewe at the wrong time, surely after 6-1 and 4-1 defeats in their previous two home games they would be making sure nothing went wrong this time. In the even they were so poor they really should have been beaten by a far bigger scoreline than the 2-1 we managed. I thought defensively they were woeful and to be honest they didn't look a lot better going forward. They are struggling and Dario (Legend in his own mind) Gradi could well be facing relegation unless they can improve on this.
He did get one thing right though before the game when he said the big threat would come from Gareth Taylor. It did and it was Taylor's first goal in open play from his feet since he got the winner at Watford in March last year. Once one up you just felt that they really were there for the taking but we don't seem to do that to teams and often let them back into the game.
Having said that we were hardly threatened in the first half although Marlon did his best to present them with an equaliser with a bad kick out although they weren't good enough to take advantage. Shortly afterwards Marlon more than made up for his mistake when he made an excellent save.
Only a goal up at half time and the talk in the bus shelters was that Burnley had more than enough to win this one with some ease. The opinion was that Crewe were as bad as anything we had played for quite some time, a shadow of the side that played at the Turf earlier in the season.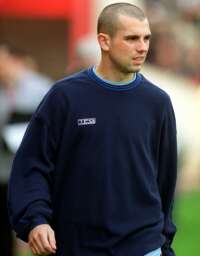 Mark McGregor - Place on the bench
There was no change in the second half but don't read into this that we were playing well, in fact far from it. We didn't need to though because of the poor quality of the opposition. Mind you in every game there will be some quality and it finally came from Alan Moore with a goal that would have had the claptrappers in ecstasy as he cut in on the right hand side of the box and curled in an unstoppable shot into the far corner giving Crewe's current keeper Clayton Ince no chance whatsoever.
Crewe have had keeper problems in the sense that whoever plays gives soft goals away but Ince could have done nothing about that and in fact made two superb saves in the second half, the first from Fred West and the second from Coxy.
The second goal should have just about ensured the points but within five minutes Crewe pulled one back with a Hulse header and for a spell then we really struggled. Marlon made an excellent save and then they hit the woodwork twice from the same attack and suddenly there was a chance we were going to drop points against this outfit. We weathered the storm though, although it was a fairly long storm and in the last ten minutes or so we were never really troubled.
A 2-1 win in the end then and who cares whether it was against a crap side or not. We have now gone five without defeat having picked up nine points. This result means just one defeat in the last ten away games and it is our ninth away win of the season. It is 29 years since we won that many away league games in a season at this level, on that occasion it was 11 and we won the league.
The win was needed particularly with the likes of West Brom, Norwich and Coventry winning their games this weekend. Others though have lost such as Millwall and David Moyes' Preston, the latter are now 10 points behind the Clarets.
Now we really must start winning at home again, it is hard to believe that it could be the home form that might let us down at the end of the day but the fact is it is now well over two months since we picked up maximum points at the Turf.
My man of the match today was Paul Cook who returned to the side and looked as though he had never been away. He adds that bit of class to the midfield and it was good to see him back. Not far behind was Bally who once again played extremely well in the centre of defence.
The referee had a quietish day and didn't get his card out until he booked Fred, rather harshly, five minutes from the end. Yet again though the officials seemed to disregard Crewe's blatant stealing of yards at every opportunity.
The teams today were,
Crewe Alexandra: Clayton Ince, David Wright, Dave Walton, Efetobore Sodje, Shaun Smith (Ben Rix 65), Kenny Lunt, Wayne Collins (Stephen Foster 86), Dave Brammer, David Vaughan, Rob Hulse, Dean Ashton (Rodney Jack 45). Subs not used: Ademola Bankole, Neil Sorvel.
Burnley: Marlon Beresford, Dean West, Ian Cox, Kevin Ball, Lee Briscoe, Glen Little (Ian Moore 73), Paul Weller, Gordon Armstrong (Graham Branch 32), Paul Cook, Alan Moore, Gareth Taylor. Subs not used: Mark McGregor, Brad Maylett, Robbie Blake.
Referee: Paul Rejer (Leamington Spa).