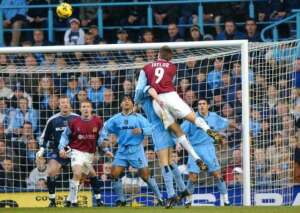 In front at Coventry with a Gareth Taylor header
Always apparently good at home, with the odd exception, the away form was always poor with the odd exception. Eight years ago we even managed to get ourselves promoted via the play offs despite winning only four away games.
It's pretty much always been like that although we did win our second away game in the Football League on 15th Sep 1888, beating Bolton Wanderers 4-3 with two goals from Tait, one from Poland and a scrimmage. In true Burnley style though it was to be our only away win all season.
There's been nothing quite so bad in recent years although in the old Second Division in 1982/83 we did win just two league games on our travels at Middlesbrough and Shrewsbury Town although there were cup wins at First Division Coventry and Tottenham.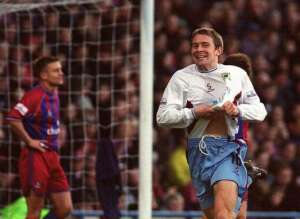 Ian Moore celebrates his first in the 2-1 win at Palace
Jimmy Mullen's Burnley were pretty desperate away from home and even after his departure there was no real improvement as Heath, Waddle and initially Ternent all failed to get a reasonable number of away wins. There were just five away league wins in Stan's first season and the following season was no better. That was until 12
th
February 2000.
On that day we travelled to Bournemouth for our 15th away league game of the season. Just two had been won at Oldham and Cambridge, both 1-0. That day at Bournemouth gave us our third away win, again by 1-0, and incredibly we went on to win seven of the last nine with the other two drawn.
Following promotion we picked up all three points on our travels on seven occasions last season back in Division One. This time round though we have surpassed that with a staggering ten away wins. For a club that has just about always had problems on its travels that is twenty four away wins in the league in just over two years.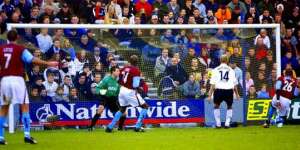 It is 1-0 at Deepdale and it is Arthur's first Burnley goal
Ten away wins this season is brilliant and for the travelling fans who get up at some unearthly hours to get to games, or return in the early hours of the morning from long midweek trips, the last two years have been better than any of us can remember.
It's not a record though, on four previous occasions we have won more than ten in a season on our travels. Not many more though, on all of those four occasions it has been just one more with eleven.
The first of these came straight after World War II and the promotion season of 1946/47. The last of the eleven wins that season was the biggest, 5-0 at West Ham with the goals scored by Harry Potts(2), Jackie Chew, Billy Morris and Jack Hays.
Brad Maylett gets in the cross for the last minute winner at Watford
We won the Football League Championship in 1959/60 with just nine away wins but the following season saw us hit the eleven for the second time. There were some big away wins that season including a 5-2 win at Arsenal and a 4-1 victory over Blackburn Rovers at Ewood but the best of all was a 6-2 win at Chelsea with a Jimmy Robson hat trick, two from Jimmy McIlroy and one from Brian Miller.
It was another twelve years to the 1972/73 2nd Division Championship side for the next eleven as the Clarets coasted back into the big time after two seasons. It was late January before we lost an away game in this season, one of just two. The biggest away win was at Villa Park when goals from Keith Newton, Geoff Nulty and Billy Ingham gave us a 3-0 win over Aston Villa.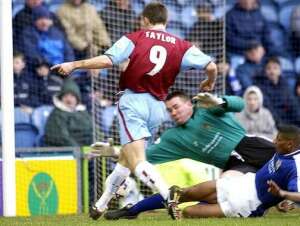 Gareth Taylor gives us the lead at Edgeley Park
It was a long wait for the next eleven and to 1991/92 the season we became the last ever winners of the 4t
h
Division. In fact there were really twelve wins that season but a 2-1 victory at Aldershot was expunged from the records as Aldershot folded during the season and did not fulfil their fixtures. The first of the eleven wins in this season was a 4-1 success against Doncaster Rovers with Paul Crichton in the opposition goal but the biggest win of the season was the 6-2 win at Wrexham when Graham Lancashire got a hat trick. Steve Harper, Roger Eli and Steve Davis got the other goals.
On all those occasions there were just 21 away games to play unlike this season when we play 23. As it stands we have 10 wins from 20 and just one more victory would see the current side equal the successful sides above. They were all successful too, three of the four above brought promotions (two with Championships) and the other came in the season the Clarets were playing in the European Cup.
Just one win from the remaining away games at Sheffield United, Portsmouth and Grimsby Town would see the current side equal the record, two wins would see them create a new Burnley FC record.