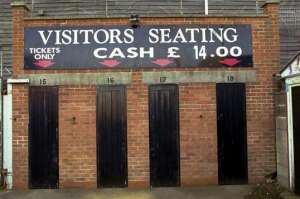 Will these turnstiles remain closed on Saturday?
Grimsby's home game on New Year's Day against Bradford City was postponed and even then doubts were being cast as to whether the pitch would be playable by Saturday.
We can confirm that the weather has been as bad as ever over there today with heavy rain falling for much of the day and more of the same is expected tomorrow with a forecast for wintry showers on Saturday.
Grimsby have already announced that the re-arranged date would be Tuesday 14th January which does tend to suggest they are less than hopeful of the game going ahead.
Certainly Burnley fans will be hoping for an early decision again to prevent many from travelling, the game there on Wednesday was called off just before noon, and there are suggestions that a decision could even be made tomorrow unless there is a dramatic improvement.
We certainly don't want the sort of farce we witnessed at their neighbours Scunthorpe three seasons ago when we travelled over for a 3rd round replay when there was no hope of the game going ahead.
But for now there is no definite news of any inspection time, just a warning from the home club that the game is in serious doubt.