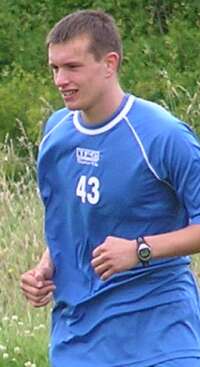 Alex Taylor - will lead the attack for the reserves

Things are bleak for the North Wales club right now with owner Alex Hamilton refusing to listen to any offers for the club and keen to see the ground sold for development.



Only a move into voluntary administration last Friday prevented the club facing a winding up order from the Inland Revenue. That brought with it a ten point deduction but at least a chance to fight on.



And fight on they do and their reserves will be at the Turf to take on the Clarets tonight with the game kicking off at 7:00 p.m.



Mark Yates has his usual inexperienced squad to choose from as we go in search of our first win of the season.

The Burnley team is: Mark Crossley, Joel Pilkington, Neal Trotman, Chris McCann, Paul Scott, Marc Pugh, Amadou Sanokho, Mark Yates, Joe Booth, Matt O'Neill, Alex Taylor. Subs: Michael Hale, Rob Henry, Darrell Avery, Nicky Platt, Tom Ince.

Wrexham, with Joey Jones in charge, line up: Matt Baker, Mark Harris, Alex Smith, Liam Jones, Gareth Evans, Levi Mackin, Kieran Quinn, Matt Crowell, Mark Jones, Matt Shaw, Callum Flanagan. Subs: Phil Gray, Danny Evans, Graham Roche, Marc Williams, Jamie Reed.


It is a match between the bottom two with the Clarets only above Wrexham on goal difference. The Wrexham fans will be able to pick up live commentary on their Wrexham World package but we'll report back for our fans this evening as we look to pull ourselves away from the bottom section of the league.