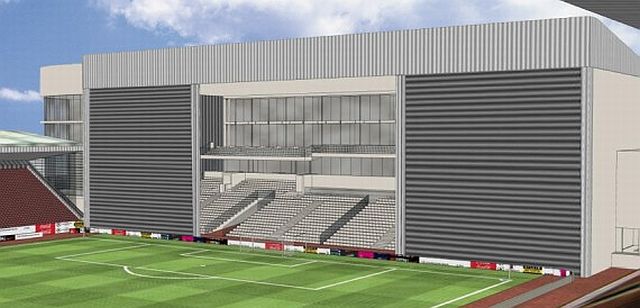 The Stadi-Arena plan has now been scrapped
In the July of 2007 came the big £20 million plans for the Burnley Sports and Leisure Village including a revamped cricket club, massive changes at Gawthorpe, new changing facilities in a multi-purpose building between the Longside and Jimmy McIlroy Stands a redeveloped Bob Lord stand and a brand new cricket field stand.
It didn't happen, but more plans and then more plans, with a few more thrown in, were published once Paul Fletcher had arrived at the club. Alongside Todmorden Curves, Weavers' Triangles and Universities was the Stadi-Arena that became known on Clarets Mad as 'The Bread Bin Stand'.
Today we can confirm that, with Fletcher set to leave the club at the end of the season, this plan is not just on the back burner but gone forever and the new, soon to be released plans will bring us the new, scaled down Eddie's Steady Arena.
Money is tight, but the cricket field stand has to go with the club deciding on a temporary structure that we can confirm will be far, far better than the scaffolding stand at Gillingham or the former Gene Kelly at Blackpool.
It will be the latest think in mobile stadium innovation. The old stand will be demolished and replaced with a hard court concrete area. On this space can be installed up to four 'Steady Arena' modules, each seating 800 people.
Each of the four modules is a self contained stand with the seats mounted on a fold away armature on the back of a mobile base. Each module will be equipped with its own refreshment stands, toilet facilities and a folding roof.
This move by the club will allow for a mix between home and away supporters at that end of the ground in some games with between one and four of the modules reserved for away fans dependent on demand.
The modules can also, when not required at Turf Moor, be rented to other sporting venues where temporary extra capacity is required. This could be smaller football clubs, athletics events or even Asian weddings.
On non match days, the area will be available for contract parking, similar to the usage the other club car parks get now.
Before this work is carried out the new dressing rooms will be relocated as per the 2007 plans, but in a much smaller building than was first envisaged.
This new idea might not be anything like the grand Sports Village idea of five years ago but with something having to be done it could prove to be a superb, and cost effective, decision by the club.