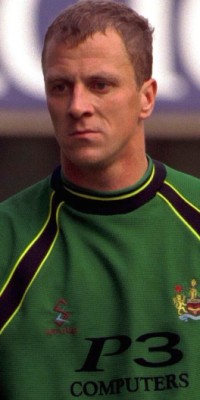 It's eleven years since Crichton, having lost his place to Nik Michopoulos in the previous season, left Burnley to sign for Norwich City and he's been involved in goalkeeper coaching since 2005 when he joined up with his former Burnley bosses at Gillingham.
He's also worked back at Norwich and at Brighton, whilst also playing for Cambridge before becoming Sheffield United during which time he almost made a playing comeback at the age of 41 when he was named on the subs bench for Carling Cup ties.
On confirming the appointment today, manager Simon Grayson said: "We had a number of options to choose from to fill this vacancy, because most people see this as a good opportunity to work at a great football club.
"I know Paul from being on coaching courses with him and having spoken to people that he has worked with he comes highly recommended. He is enthusiastic, hard-working and he wants to make an impression here and do well, just like every other member of staff here.
"We also played together at Aston Villa for a short time and it does help to know him personally. This football club is special in that everybody gets on and that allows us to work very closely together to keep improving."
Crichton said: "Obviously we all know what happened in the summer in terms of Huddersfield getting promoted and then my contract at Sheffield United expired, which gave me the opportunity to explore my options.
"I know Huddersfield is a good club and this is a great chance for me to work at a Championship football club that is really going places. I know the ambition that the Chairman has here and I want to be a part of it.
"I've also sat in the same dressing room as Simon and we've caught up since on coaching course, whereas Glynn Snodin lives in the same village as me. I've just met the rest of the backroom staff and they all seem brilliant too, so hopefully the transition will be quick.
"It will be great to work with the likes of Benno (Ian Bennett), Nick (Colgan) and Alex (Smithies) and I'm sure we'll have a good season together. These lads are proven and everybody has seen how good they are, so I'm looking forward to working with them and the younger pros too."