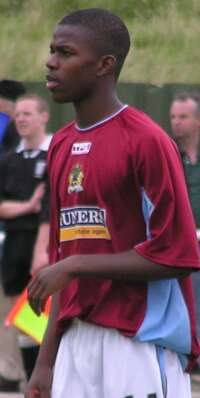 Cayne Hanley - will be back from suspension and will lead the attack

There will be sixteen ties in the 4th round and despite the fact that only Derby and Fulham are as yet through (they beat Grimsby and Birmingham respectively) the draw went ahead today giving the Clarets and away tie against either QPR or Southampton.



They play their 3rd round tie tonight at Loftus Road but whoever wins will have to wait for eight days to see whether it will be Burnley or Norwich who will play them.



Things are not as bright as they could be for the young Clarets and we will certainly be without Kyle Lafferty for the tie although it is hoped that Martin Reilly will be passed fit.

In Lafferty's absence the main responsibility up front will fall on the shoulders of Cayne Hanley who will be returning from suspension after this weekend.



A reminder, that our tie will be played next Wednesday, 15th December, at the Turf and kicks off at 7 o'clock.



It is a chance for you to come down and give them your support. They deserve a decent crowd and certainly more than the 178 who saw Fulham's victory over Birmingham last night.

The likely Burnley team next week is: Michael Hale, Rob Henry, Neal Trotman (captain), Chris McCann, Martin Reilly, Marc Pugh, Darrell Avery, Joe Booth, Nicky Platt, Tom Ince, Cayne Hanley.