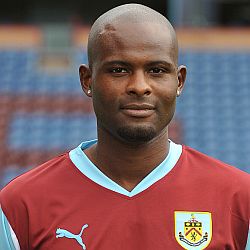 Cort joined Charlton on 29th August on a season long loan but, although not revealed at the time, Burnley had the option of recalling him at any time between the 3rd and 13th January.
I don't think anyone expected we would recall him but we did just that yesterday and then came to a mutual agreement with the player to terminate his contract which still had a season and a half to run.
Cort joined the Clarets as Brian Laws' first signing and made his debut in the Premier League in the home game against Chelsea. He played in all of the remaining Premier League games other than the last one against Spurs when he was ruled out by injury.
Last season he found himself out of the side until the draw at Millwall. On that day Clarke Carlisle was sent off early in the game and was quickly followed by the then Andre Bikey with a rib injury. Michael Duff and Cort came on as substitutes and Cort retained his place in the team for the next three games.
He did OK until the last one when he had a nightmare against Reading. Although the penalty he gave away was a ridiculous decision by referee Nigel Miller he was sent off for a second yellow card and never kicked a ball for Burnley again.
He went on an emergency loan to Preston in November 2010 and, once Eddie Howe arrived as manger, that was extended in January for the remainder of the 2010/11 season.
It was clear he wasn't going to feature this season. Although he featured in the first two pre-season games, at Altrincham and Bury, he was not included for the trip to the South West. Neither was he included on the season's team photograph. That led to the loan at Charlton until yesterday and in confirming his departure Burnley said: "Burnley Football Club would like to place on record our thanks to Leon for his contribution during his time at Turf Moor."
Chief Executive of Charlton Athletic, Stephen Kavanagh, confirmed: "Leon is now free to speak to other clubs and that includes us."