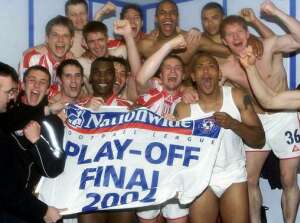 Andy Cooke celebrates with his team mates last night
Cheltenham's Mark Yates and Neil Howarth won through on Tuesday evening by the slenderest of margins with a penalty shoot out win against Paul Smith and Kevin Henderson with Hartlepool and Cookey's Icelandic club couldn't have left it much later.
They took the lead on the night, the goal that levelled the tie just two minutes from the end and then went on to win it with another late goal in extra time. Incredibly the Sstoke manager Gudjon Thordassssson decided to go with a more attacking side and played three up front and this meant Andy was on the bench. He came on as they got desperate just a couple of minutes before the first goal.
We were desperate to get to Cardiff but at least Cookey has made sure that we won't be going to the Welsh capital for a league game next season. Thanks for that Andy, but I'm sure we are going to have more on that tomorrow.
Watching Norwich win through last night, to be constantly told by the commentary team on the free to air channel that they were 20 points behind Wolves in March, was hard to take. With just seven games left last season we were nine points clear of Delia's boys and Paul Crichton who becomes the fourth ex-Claret to make it to Cardiff albeit, as in the case of Neil Howarth, as a substitute. How on earth did we manage to let them get above us?