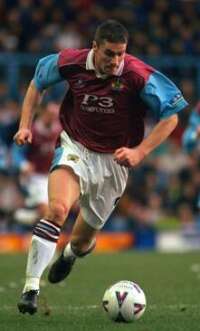 Andy Cooke helps the Clarets to 'Collar' another promotion
Some people, myself included, prefer shirts without a collar whilst others prefer them with. I think if a vote was taken it would probably be around 50/50. It is all a matter of personal choice. The club along with TFG Sports have managed to keep all of us happy by having a home shirt with a collar and an away shirt without.
Obviously whether there is a collar or not is irrelevant to the players and will have no bearing on how the Clarets play. Or will it? Recent history suggests that the collared shirts tend to have an impact.
Back in 1991 we introduced a shirt with a collar, manufactured by Ribero. To be honest it looked anything but a Burnley shirt, the colour looked more purple than claret and it had blue flashes all across it. However it had a white collar and the impact was immediate as the Clarets won the Fourth Division Championship.
This shirt was used for two seasons and in 1993 it was replaced by another collared shirt, this time from Mitre. This shirt is still one of the most popular and carried a mainly blue collar with some claret. Again it was promotion at the first time of asking, this time via the play off win at Wembley against Mr. Hell-Wood's Stockport.
Again it was in use for two seasons and sadly was worn during the relegation season but there is still no doubting that it was successful in its first season.
There was another collared shirt from Mitre to follow this in 1995 but for some strange reason it included yellow in it. This removed any hope of it being able to help and its only contribution was to see the end of Jimmy Mullen.
We followed that with three years of Adidas £15 t-shirts with a badge on, including the most hideous of home shirts, the claret and blue quarters. This was worn for two seasons and was then followed by the shirt with the three blue horizontal bars.
It was back to tradition and back to collars in 1999 with the first Super League shirt and once again it had the desired effect and won us a promotion. We might not have worn it on the pitch at Scunthorpe in that last match but there were enough of them inside the ground.
Back in the First Division the past two seasons have seen shirts with no collars and we have established ourselves at this level.
I still prefer shirts without collars but there is no denying that Burnley have won three promotions in the last eleven seasons and all three have been gained in seasons when we wore a new collared shirt. I'll happily put up with the collar for the 2002/03 season if this is to continue.