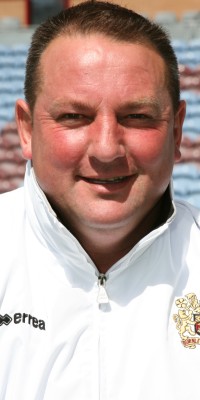 Vince Overson - rated the youngster very highly
I was told he was a special talent and that I'd be excited beyond belief when I saw him play, and so I waited and waited for the opportunity to see him pull on a claret and blue shirt, but alas that moment is never going to come.
I'm jealous of those who did see him play for us, those who saw him in some of the junior teams and finally Andy Ashworth who saw him play in the youth team last season whilst reporting for Clarets Mad. Andy was texting me with glowing comments about him after he came on as a substitute in a team that including players four years older than this 14-year-old.
It was only because of the Clarets Mad Youth Foundation and the work members of this message board carry out in scouting for the club that I ever did hear about him, and it wasn't just the scouts raving about him. I've spoken to Vince Overson, Terry Pashley and Jeff Taylor about him and all three have had the same story to tell.
Everything looked good, I was seriously expecting there to be a chance of him becoming Burnley's youngest ever first team player, but recently press speculation has suggested he might be on his way.
Liverpool, Chelsea, Manchester United - they've all been mentioned and it is probably fair to say they have all pursued him relentlessly, some clubs possibly in a fairer way than others. He looked odds on to go to Liverpool, should we not be able to keep him, but some good negotiating by the Clarets, and Steve Cotterill in particular, have led to a move to Old Trafford.
We would have preferred to have kept him at Burnley but that proved impossible with John clearly wanting to move on and not having featured for Burnley this season. Brendan Flood said: "The player was unwilling to come back to Burnley, so we didn't have a choice in keeping him here. He was going to go to one of the clubs chasing his signature and in the end we all felt that Manchester United was the right option.
"He has a good future ahead of him and hopefully we can try to keep youngsters of John's quality at the club in future. However, this just shows how hard it is to keep someone who is exceptional."
Speaking on behalf of Cofie's representatives Beswicks, Tim Bailey said: "He is looking forward to this next step in his football career. The interest shown in John from a number of Premiership clubs underlines his recognised ability and potential.
"John is grateful for this opportunity and would like to express his sincere gratitude to everyone at Burnley FC who have supported him over the last two years, particularly Jeff Taylor and wishes the club every success for the future."
No details of the deal have been disclosed but it is believed Burnley will receive a sizeable payment, a 25% sell on clause, a loan option, and further payments to come.
Cofie has signed with the Old Trafford club for the next six years which will cover his schoolboy and apprenticeship terms leading to his first professional deal.
Good luck to the lad, and I'm sure we'll hear of him in years to come. I've stood next to him watching a youth game, but I'm gutted I never got the chance to see him in a claret and blue shirt.